Costa Rica has always been one of those destinations on every Canadian's bucket list, its tropical, has a unique Spanish-influenced culture and for the young sports enthusiasts it is the ideal destination to chase waves. After a long winter of park laps on Ontario's ice-ridden Niagara Escarpment myself and fellow rider Leslie Sparkes were drooling over the idea of margaritas, coconuts and surfer boys on white sand beaches.
Having grown up spending full summers on a lake in central Ontario I can count the number of times I have actually seen the ocean. That being said when we arrived I walked down to the beach carrying my giant long board thinking, this will be a piece of cake, I'll be graduating to a 6' board in no time. Ha. After front-rolling through about 50 waves wondering how the locals can stand up oh so effortlessly I gave up that dream pretty quickly. On a positive note I did manage to catch a couple small waves getting the infamous surf stoke.
The next day we were greeted by Canadian Pro rider Ashley Leugner who had been coaching at PACR earlier that week in La Fortuna. Reunited, we pounded back a few Imperials and set out in search of the 'bros', our new found friends from the big city of Vancouver and Toronto. They had conveniently booked a package complete with surf lessons from the local 'fabio' and were oh so gracious to share their tips with us. However, more than often they hadn't actually received any, since fabio was pretty consumed with giving the best tips to the girls in their group wearing string bikinis.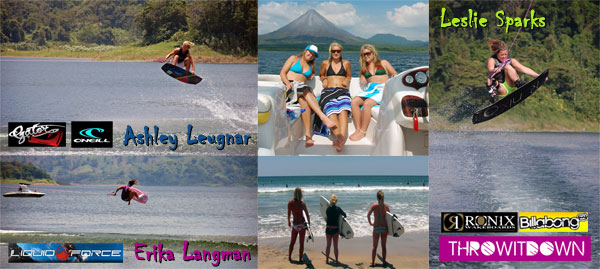 Patio beers, delicious dinner and a few Tamarindo margaritas later, we headed out for bed so we could get up to ride high tide in the AM.
After a week of surfing, catamaran rides, Argentinean barbeque (which ultimately resulted in a full day ride on the porcelain train), Jonathan Turcotte of Paradise Adventures Costa Rica picked us up to head out to La Fortuna. Driving through the hills we watched the dry grass and smell of smoke slowly be replaced by clear volcanic streams flowing into Lake Arenal at the base of the Arenal Volcano. The Arenal Volcano is the 7th most active volcano in the world, we were actually able to see smoke rising out of it on numerous occasions.
We stayed at PACR where we met Sofia, who is a Costa Rican local. She showed us where to pick coco plants, and fed us white furry Guava fruit. I was pretty skeptical at first because it closely resembled a small hamster but it ended up being pretty darn good.
After a full day of zip lining, suspension bridges, rope swings and river lounging we prepped the boat to get out to the lake and ride. First sets of the season are always a little rusty but the lake worked its magic and we all got a few good hits in. You can never go wrong wakeboarding at the base of a Volcano. Overall it was an amazing trip, a special thanks to Jonny and Sofia for the great hospitality and teaching us the Pura Vida way.
PACR has gathered some of our latest photos and videos of  adventures from La Fortuna and throughout Costa Rica . Interested visitors can see others experiencing the Adrenalin and Pura Vida combo's available.
Photos and Videos offer more proof of why Paradise Adventures Costa Rica is rated one of the Top Tour Companies in the Country. Check out our testimonial page and and TripAdvisor listing for more.
Send us your top pictures and videos to add to our collection, the photos and videos with the most likes will be entered into a draw and the winner will receive a free Wakeboard/Wakeskate session with Paradise Adventures Costa Rica and a 20% discount off any other tours and adventures they book with PACR.
Photos must be authentic and of your personal property, send to jonnytte@gmail.com

Wakeology Wakeboards rider Dane Goodwin, wakeboarding Lake Arenal Costa Rica
Keep the stoke peps, Pura Vida!
A working vacation in Costa Rica helping PACR spread awareness of our one of kind vacation services, seeking out new adventures to add to our growing list of activities, offering Wakeboard lessons and coaching, input and feedback on new marketing and advertising campaigns, setting up wakeboard and wakeskate clinics, event planning throughout Costa Rica and having the time of your life doing so.
Accommodation:
Private, secure, furnished cabin, comes with all the trimmings to make your stay comfortable, located 2klm from downtown La Fortuna and PACR's Adrenalin Center #2.
Food and extra's are your responsibility, most of which is more affordable than back home.
Payment/Income:
What you make is up to how many clients we have, tours sold, wakeboard and wakeskate lessons and whatever else you can bring to the business.
Investment types:
Anything that makes a profit, funds, time, equipment, lessons, sales and so on…you would be using PACR as base to do so, you control your income; what you can earn is up to you.
Adrenalin info Centers: PACR has multiple locations at your disposal, offices are situated throughout La Fortuna and have all the information and tools needed to get you started.
Bonus of working with PACR:
Take part in all the tours and adventures offered, Wakeboarding and Wakeskating from one of the most unique location on the planet, surfing some of the best breaks on the Pacific and Caribbean, making new friends, learning the Pura Vida way and returning to self, experiencing a different culture and lifestyle and fueling the stoke.
Another EPIC year for wakeboarding in Costa Rica, PACR hosted 4 pro wakeboarders in and effort to spread wakeboard awareness and added a few new locations and adventures to our list of adrenalin filled activities and accommodations in Pura Vida Land.
Thanks for all the support from our new friends, Costa Rica, la Fortuna, Wakeology Wakeboards and the wakeboard world. 2012 has started off with plenty of sunshine and an influx in tourism to La Fortuna and more demand for wakeboarding and other stoke from PACR.
Allot is in the making for 2012 and will be surfacing over the upcoming months, be sure to follow us on Twitter and Facebook for updates of who, what when and where.
Here a list of what's to come:
Wakeboard Company Team trips, pro clinics and Coaching, Photo and video shots and some surprise visits from some of the greats who've helped form the wakeboarding industry into one of the most popular water sport today.
Growth and Success of Wakeboarding in Costa Rica
The PACR family is growing and more are joining us on our mission of putting wakeboarding in Costa Rica on the map. Many wakeboarders or wakeskaters would never consider wakeboarding or wakeskating in Costa Rica because they are unaware of where to do it, who to do it with.
PACR has a full range of wakeboard and wakeskate equipment for riders of all ages, shapes and sizes, boat equipped with Tower , Power, Ballast and a driver with many years of experience.
All of our customers leave fully stoked and satisfied, take a moment to read some testimonials for a better idea of what people are saying about the services PACR provides and the newly discovered wakeboarding bliss, Lake Arenal , Costa Rica. This above information is all that is needed when considering wakeboarding in Costa Rica, we are the real deal and are here to insure visitors to Paradise experience this one of kind opportunity.
The growth of the PACR Family had us searching for a new location so we can expand into the company we are destined to become. PACR has been in business for over 5 years and the determination, dedication and belief of the crew is finally showing results. There are many places to stay during your visit to Costa Rica and the Fortuna area and we believe in taking care of our visitors by offering them everything they need. Once the trust is formed, not worrying about where to stay, eat and so on turns your trip in an actual vacation.

Private Cabins, situated 1 klm from La Fortuna, backing onto Rio Fortuna with an amazing view of Arenal Volcano. Walking Distance to all amenities, rope swing , waterfalls, hiking paths, Cerro Chatto Lake, Hot springs and river access to cool off. Cabins are peaceful, comfortable and safe.
Paradise Adventures Costa Rica is a tour company that specializes in wakeboarding, wakeskating, surfing and a variety of different tours throughout Costa Rica.
PACR is growing quickly and with that growth we have added additional services and adventures that we are stoked to share with you, your group or family. Here is a list of some of the new experiences available :
Rafting, zip lining, horseback, kayaking, boat tours on the 33 mile Lake Arenal, night time lava tours, ATV, natural hot springs, surf trips, Bungee Jumping, Repelling down waterfalls, fishing and transportation services.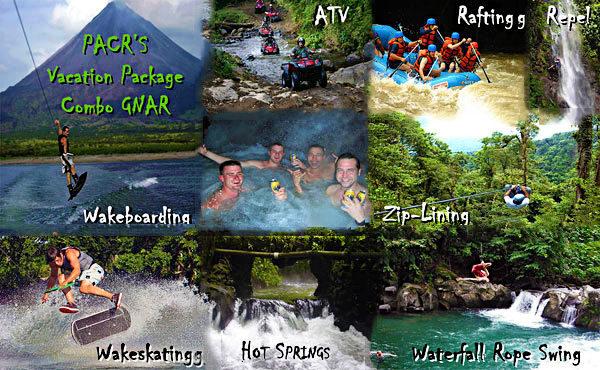 ---
Vacation Package: Adrenalin Combo "Gnar"
White water rafting Level 4, (level 5 available) includes transportation to and from river, lunch and some of the best guides in the area. (Tour last for 7 hours.)
The longest, tallest and fastest Zip line in Costa Rica. (Tour last for 2 hours), The Tram ride to the top allows you to take in the Arenal Volcano and 33 mile Lake Arenal Bellow.
Repelling down waterfalls , (tour last 4 hours) and includes lunch.
Horseback riding, El Castillo trail riding (4 hours)
ATV rentals, through Farms, river and alongside volcano, tour last (2-3 hours), Lunch included
Thermal Hot Springs, naturally heated from the Arenal Volcano (evening and day trips available)
Waterfalls and Rope Swing
Lessons and coaching with CWB's Diamond Rider Raequel Hoffman
Hoffman is super stoked to share her expertise with other wakeboarders from one of the most amazing fresh water lakes on the planet. Raequels first shred session on Lake Arenal was awesome, plenty of sun, flat waters and clear Volcano; she is the first I've seen stomp a "whirly bird" at the base of the active Arenal Volcano.
Rae's style is clean and consistent, with a wide variety of verts, spins and grabs, I have never seen someone so comfortable on a board, she truly is in her element out there and there no doubts she can help you find yours.
We will be posting videos and pictures of the upcoming clinics and lucky customers who get to experience them, as well as ride days and other adventures with Raequel and PACR.
If you have any question for this Cali girl you can hit her up on Facebook.
Raequel's First week in Costa Rica
Rae's been there and done that, here is a list of adventures and activities shes experienced in her first week: Wakeboarding, Horseback Riding, ATV, Hot Springs, Waterfalls, Hiking, Zip-Lining, Surfing, soccer with some locals and even witnessed her first Costa Rican Rodeo., yehaaa Rae, your doing it PACR styles; with adrenalin and fun.