Explore some of Costa Rica's most beautiful landscapes, forest, jungles, waterfalls, blue rivers, Caves and Volcanoes.
PACR only offers hiking tours by certified naturalistic guides with years of experience, passion and respect for Costa Rica and all of its Pura Vida. Tours range in intensity and are available for people of ages, a proper analysis will be done to insure the visitors safety, good physical condition is required for most of the hikes offered.
Click link for information on Costa Rica's Natural Wonders and discover the Pura Vida>>>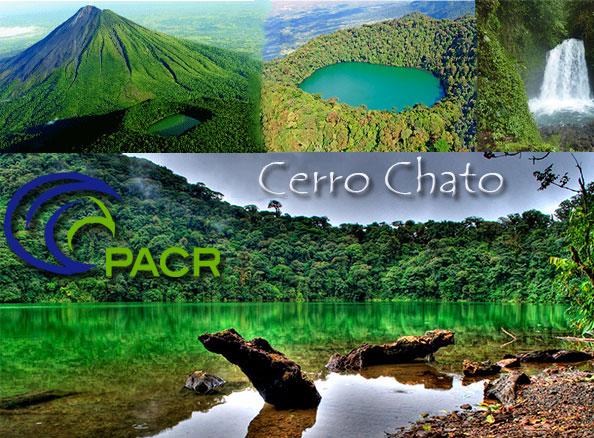 Last known eruption of Cerro Chato was dated at about 3500 years ago. Following this eruption the 1140-m-high stratovolcano contained a 500-m-wide summit crater that is partially filled by Laguna Cerro Chato. Activity at Cerro Chato dates back to 38,000 years, and prior to its yield of activity it was active concurrently with Arenal for several thousand years.
2015 has started out with lots of positive change for Paradise Adventures Costa Rica. I came to Costa Rica to live a life of freedom, a life where I can raise a family, be with them and explore Costa Rica and share these findings with others. Over the last few years I found myself returning to a style of living that I left behind, one with alarm clocks, competition and helping people who do not deserve it. I am fortunate to have awakened from this sleep and to escape the grasp before it consumed more of my family's freedoms, time and respect. I am happy to say that PACR has returned to the roots of Costa Rica, out of the concrete and back to the Pura Vida.  Our new location has more space, surrounded by nature, outstanding Volcano views, tropical gardens and a short drive from downtown La Fortuna. Direction from San Jose or Liberia Sofia, Valentina and I are very excited about this new journey, a new canvas is in place and we welcome you to come join in the fun. We have watched PACR grow from many locations and nature has always been our favorite. We will be offering the same quality of service and have less detractions, giving us more time to discover new locations and activities throughout Costa Rica; not just La Fortuna. Many come to Costa Rica for its Rainforest, Cloud Forest, Pacific Coast, Caribbean and it's all accessible.  PACR has created many relationships with like minded people interested in sharing the magic of Costa Rica with visitors who come from all parts of the globe.  This community is of an innocent era, whose minds have not been corrupted by large profits and greed. We all work together with the same goal at heart, insure visitors are informed of the many options available so they can make and educated decision on what suits their travel, adventure needs. You may have noticed our AirBnB profile, if not please have a look. AirBnB is a online community offering lodging options of all types. PACR works with the Customer from start to finish we are more than and adventures company, we are the whole package, whether its adventures, lodging, dining or shopping, we can help. Our guests become friends the moment we meet them and create trust, finding people you can trust while visiting a foreign country adds a ton of convenience and saves time and money. We invite you to visit our new location for a test drive, we guarantee everything we provide will create the memories one deserves while taking a vacation, isn't that what a vacation is for???  Check out what our previous visitors had to say about the PACR experience and contact us anytime, the PACR crew is ready when you are. (more…)
Paradise Adventures Costa Rica is a tour company that specializes in wakeboarding, wakeskating, surfing and a variety of different tours throughout Costa Rica.
PACR is growing quickly and with that growth we have added additional services and adventures that we are stoked to share with you, your group or family. Here is a list of some of the new experiences available :
Rafting, zip lining, horseback, kayaking, boat tours on the 33 mile Lake Arenal, night time lava tours, ATV, natural hot springs, surf trips, Bungee Jumping, Repelling down waterfalls, fishing and transportation services.
---
Vacation Package: Adrenalin Combo "Gnar"
White water rafting Level 4, (level 5 available) includes transportation to and from river, lunch and some of the best guides in the area. (Tour last for 7 hours.)
The longest, tallest and fastest Zip line in Costa Rica. (Tour last for 2 hours), The Tram ride to the top allows you to take in the Arenal Volcano and 33 mile Lake Arenal Bellow.
Repelling down waterfalls , (tour last 4 hours) and includes lunch.
Horseback riding, El Castillo trail riding (4 hours)
ATV rentals, through Farms, river and alongside volcano, tour last (2-3 hours), Lunch included
Thermal Hot Springs, naturally heated from the Arenal Volcano (evening and day trips available)
Waterfalls and Rope Swing
PACR has gathered some of our latest photos and videos of  adventures from La Fortuna and throughout Costa Rica . Interested visitors can see others experiencing the Adrenalin and Pura Vida combo's available.
Photos and Videos offer more proof of why Paradise Adventures Costa Rica is rated one of the Top Tour Companies in the Country. Check out our testimonial page and and TripAdvisor listing for more.
Send us your top pictures and videos to add to our collection, the photos and videos with the most likes will be entered into a draw and the winner will receive a free Wakeboard/Wakeskate session with Paradise Adventures Costa Rica and a 20% discount off any other tours and adventures they book with PACR.
Photos must be authentic and of your personal property, send to jonnytte@gmail.com

Wakeology Wakeboards rider Dane Goodwin, wakeboarding Lake Arenal Costa Rica
Keep the stoke peps, Pura Vida!
Costa Rica has always been one of those destinations on every Canadian's bucket list, its tropical, has a unique Spanish-influenced culture and for the young sports enthusiasts it is the ideal destination to chase waves. After a long winter of park laps on Ontario's ice-ridden Niagara Escarpment myself and fellow rider Leslie Sparkes were drooling over the idea of margaritas, coconuts and surfer boys on white sand beaches.
Having grown up spending full summers on a lake in central Ontario I can count the number of times I have actually seen the ocean. That being said when we arrived I walked down to the beach carrying my giant long board thinking, this will be a piece of cake, I'll be graduating to a 6' board in no time. Ha. After front-rolling through about 50 waves wondering how the locals can stand up oh so effortlessly I gave up that dream pretty quickly. On a positive note I did manage to catch a couple small waves getting the infamous surf stoke.
The next day we were greeted by Canadian Pro rider Ashley Leugner who had been coaching at PACR earlier that week in La Fortuna. Reunited, we pounded back a few Imperials and set out in search of the 'bros', our new found friends from the big city of Vancouver and Toronto. They had conveniently booked a package complete with surf lessons from the local 'fabio' and were oh so gracious to share their tips with us. However, more than often they hadn't actually received any, since fabio was pretty consumed with giving the best tips to the girls in their group wearing string bikinis.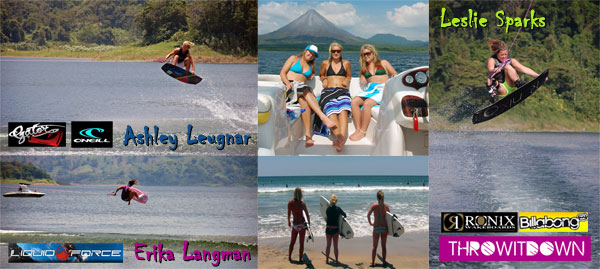 Patio beers, delicious dinner and a few Tamarindo margaritas later, we headed out for bed so we could get up to ride high tide in the AM.
After a week of surfing, catamaran rides, Argentinean barbeque (which ultimately resulted in a full day ride on the porcelain train), Jonathan Turcotte of Paradise Adventures Costa Rica picked us up to head out to La Fortuna. Driving through the hills we watched the dry grass and smell of smoke slowly be replaced by clear volcanic streams flowing into Lake Arenal at the base of the Arenal Volcano. The Arenal Volcano is the 7th most active volcano in the world, we were actually able to see smoke rising out of it on numerous occasions.
We stayed at PACR where we met Sofia, who is a Costa Rican local. She showed us where to pick coco plants, and fed us white furry Guava fruit. I was pretty skeptical at first because it closely resembled a small hamster but it ended up being pretty darn good.
After a full day of zip lining, suspension bridges, rope swings and river lounging we prepped the boat to get out to the lake and ride. First sets of the season are always a little rusty but the lake worked its magic and we all got a few good hits in. You can never go wrong wakeboarding at the base of a Volcano. Overall it was an amazing trip, a special thanks to Jonny and Sofia for the great hospitality and teaching us the Pura Vida way.