100% Natural Volcanic Thermal Hotsrpings rich in minerals and healing properties

located 7 minutes from La Fortuna Center situated at the base of the famous Arenal Volcano,
Hotspings are surrounded by lush tropical gardens, sit back relax and enjoy the spectacular views while exploring the variety of pools ranging in temperature from 89 -152 degrees Fahrenheit (31-66 Celsius).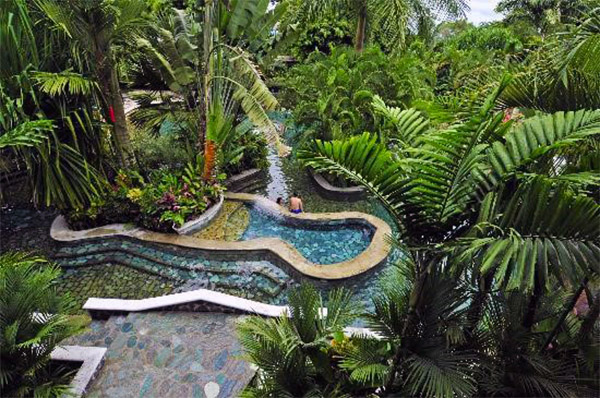 12 hour Day Pass grants guest access to thermal pools filled with the healing powers of the crystalline waters, a perfect place to relax and rejuvenate after a day of fun and adventure.
Explore the 25 thermal pools, hot and cool, 60 person Jacuzzi, crystalline waterfalls, largest sauna in the country, extreme water slides, Kids Zone (appropriate fun for all children, allowing parents to relax and enjoy their vacation)
Large Costa Rican style lunch or dinner buffet for sure to satisfy, prepared fresh daily.
I take my family here at least once a month, hands down the hottest, largest, cleanest and most bountiful hotspring I've found; an enjoyable experience for the whole family.
$42.00 USD per person: KIDS 1-6 are ages 6-10 $30.oo USD *(Regular price $57)*
Open 10:00AM – 10:00PM Lunch 12:00PM -3 PM Dinner 5:00 – 9:00PM
***Package the Hotsprings with PACR's top Tours/Activities and save, Group Rates Available***
White water Rafting: Book it with PACR and Save!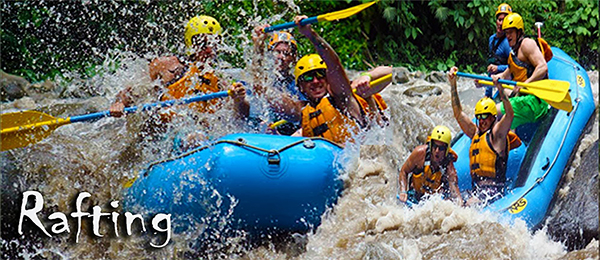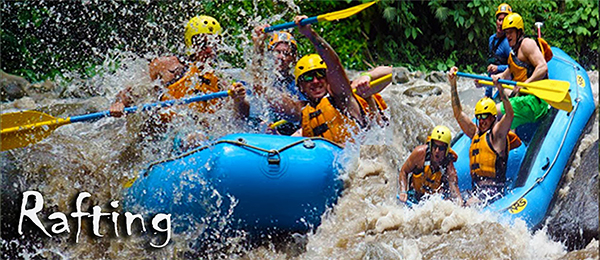 One of PACR's top recommendation, Certified Swift White Water Technicians, Tropical Location and delicious food create an adrenalin fun filled adventure you'll never forget.
Takes place on one of the most beautiful white water sections in Costa Rica, Strong physical condition and good listening skills is required for this one of a kind adventure; the guides will take care of the rest.
***Tour is conducted by the certified rafting guides, Safety and quality is their number one priority.
All guides are CPR, first AID and swift water technicians***
Pick up is 9:00AM and finishes up at around 4pm, Level 4 River, 2 and a half hours of rafting
Tour includes:
Transportation to and from the river, comfortable spacious bus
Best guides in the area, real people sharing their passion and loving doing so
Fruit snack (Pineapple & Watermelon) 30 minute break on the riverbank, taking in the beauty of the tropical forest before heading back out for more white water action.
Towels and Ice Cold Beers with the guides (After the Rafting)
Large Costa Rican style lunch (Casado) plenty of delicious food to help refuel after an amazing time with great people from one of my all time favorite locations in Costa Rica.
$75.00 USD Per Person *(Contact the PACR crew for group rates and package pricing)
(more…)
Horseback riding to the Canyon of the Arenal River
A real horseback ride through private farms surrounded by dense jungle, primary and secondary tropical rainforest to the Canyon of the Arenal river.
All of the horses are well trained, cared for and are happy to take you along for the ride,guides have years of experience and filled with wisdom passed down through generations of Costa Rican culture.
On top of being excellent riders all guides are certified naturalistic guides, they will stop along the way to point out animal and plant life usually unnoticed to the untrained eye.
Costa Rica's bio diversity is often described as intense, the horseback riding will conveniently bring you and your family through a nature rich environment in the basin of the world famous Arenal Volcano.
Getting up close and personal to the Arenal Volcano while learning of its history on horse is a natural adventure for people of all ages and will leave the whole family even more impressed of Costa Rica's Pura Vida.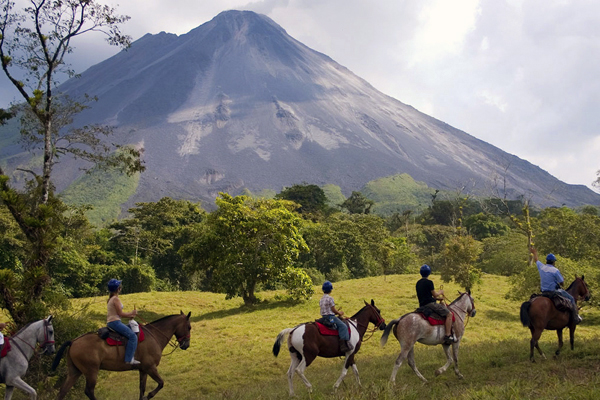 ($65 per person, tour duration 3 hours)
Included: Bilingual guide (English & Spanish) transportation and beverage.
Departure: 8:00 AM and a final outing at 1:00PM, **depending on your hotel location**
What to Bring: Long Pants (recommended), insect repellent (if your sensitive to bugs), camera, and sun screen
Explore some of Costa Rica's most beautiful landscapes, forest, jungles, waterfalls, blue rivers, Caves and Volcanoes.
PACR only offers hiking tours by certified naturalistic guides with years of experience, passion and respect for Costa Rica and all of its Pura Vida. Tours range in intensity and are available for people of ages, a proper analysis will be done to insure the visitors safety, good physical condition is required for most of the hikes offered.
Click link for information on Costa Rica's Natural Wonders and discover the Pura Vida>>>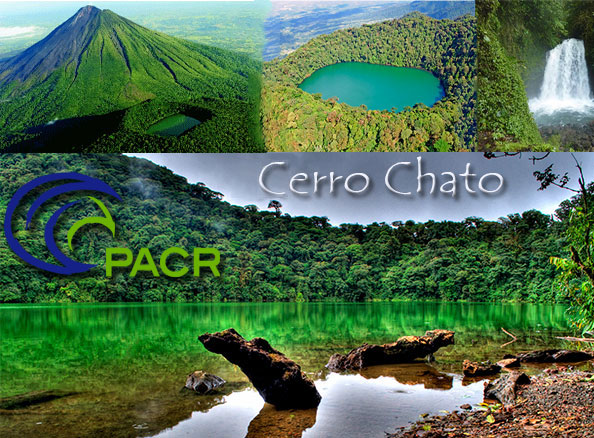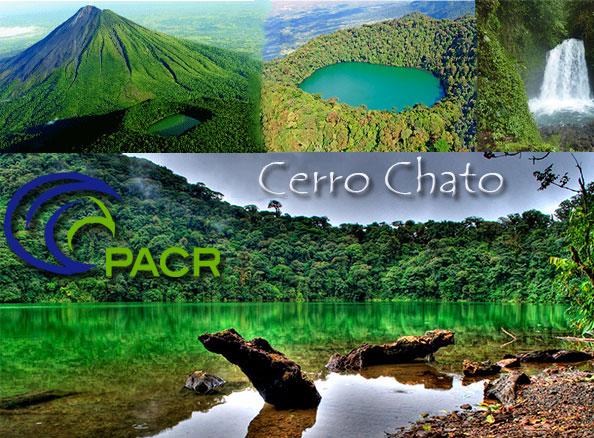 Last known eruption of Cerro Chato was dated at about 3500 years ago. Following this eruption the 1140-m-high stratovolcano contained a 500-m-wide summit crater that is partially filled by Laguna Cerro Chato. Activity at Cerro Chato dates back to 38,000 years, and prior to its yield of activity it was active concurrently with Arenal for several thousand years.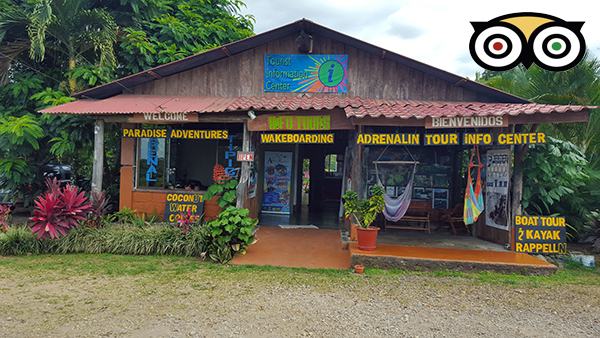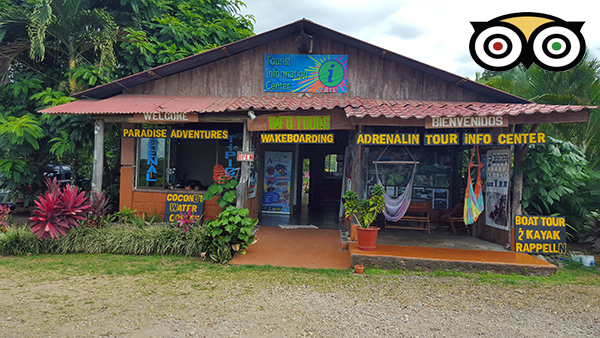 PACR's new location has more space, surrounded by nature, outstanding Volcano views, tropical gardens, a peaceful serene environment and a short drive from downtown La Fortuna. Direction from San Jose or Liberia
Sofia, Valentina and I are very excited about this new journey we welcome you to come join in the fun.
We have watched PACR grow from many locations and nature has always been our favorite, the PACR crew will be offering the same quality of service and have less detractions, giving us more time to discover new locations and activities throughout Costa Rica.
PACR and our new partner AIRBNB
Please take a moment to check out my AirBnB profile, a professional and easy to use online booking platform with the best communication and security option that I have come by; Travel like a human.
Furnished cabins:
1,2 and 3 bedrooms cabins are available, located minutes from downtown, situated alongside Rio Fortuna and 5klm from the Arenal Volcano. Cabins have an amazing Volcano view and private access to a refreshing swim in the Fortuna River.
Fully Equipped Condos with all the comforts of home:
And for people looking to stay a little longer with a few more added comforts , the 2 bedroom Condo got you covered. Condo's are located one block from La Fortuna center, equipped with all the comforts of home, clean, quiet and safe.
Property is surrounded by tropical gardens and have amazing views of the Arenal Volcano.
That's all for now, thanks for taking teh time to stay up with PACR, follow us for updates