White water Rafting: Book it with PACR and Save!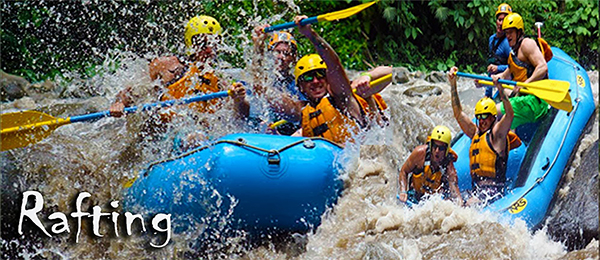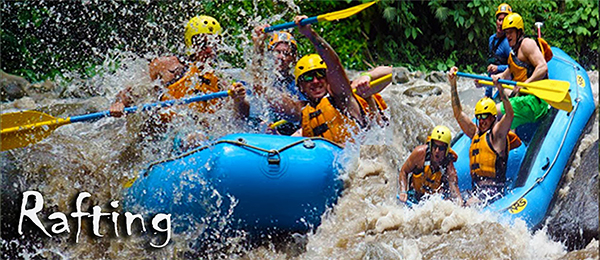 One of PACR's top recommendation, Certified Swift White Water Technicians, Tropical Location and delicious food create an adrenalin fun filled adventure you'll never forget.
Takes place on one of the most beautiful white water sections in Costa Rica, Strong physical condition and good listening skills is required for this one of a kind adventure; the guides will take care of the rest.
***Tour is conducted by the certified rafting guides, Safety and quality is their number one priority.
All guides are CPR, first AID and swift water technicians***
Pick up is 9:00AM and finishes up at around 4pm, Level 4 River, 2 and a half hours of rafting
Tour includes:
Transportation to and from the river, comfortable spacious bus
Best guides in the area, real people sharing their passion and loving doing so
Fruit snack (Pineapple & Watermelon) 30 minute break on the riverbank, taking in the beauty of the tropical forest before heading back out for more white water action.
Towels and Ice Cold Beers with the guides (After the Rafting)
Large Costa Rican style lunch (Casado) plenty of delicious food to help refuel after an amazing time with great people from one of my all time favorite locations in Costa Rica.
$75.00 USD Per Person *(Contact the PACR crew for group rates and package pricing)
(more…)
Horseback riding to the Canyon of the Arenal River
A real horseback ride through private farms surrounded by dense jungle, primary and secondary tropical rainforest to the Canyon of the Arenal river.
All of the horses are well trained, cared for and are happy to take you along for the ride,
guides have years of experience and filled with wisdom passed down through generations of Costa Rican culture.
On top of being excellent riders all guides are certified naturalistic guides, they will stop along the way to point out animal and plant life usually unnoticed to the untrained eye.
Costa Rica's bio diversity is often described as intense, the horseback riding will conveniently bring you and your family through a nature rich environment in the basin of the world famous Arenal Volcano.
Getting up close and personal to the Arenal Volcano while learning of its history on horse is a natural adventure for people of all ages and will leave the whole family even more impressed of Costa Rica's Pura Vida.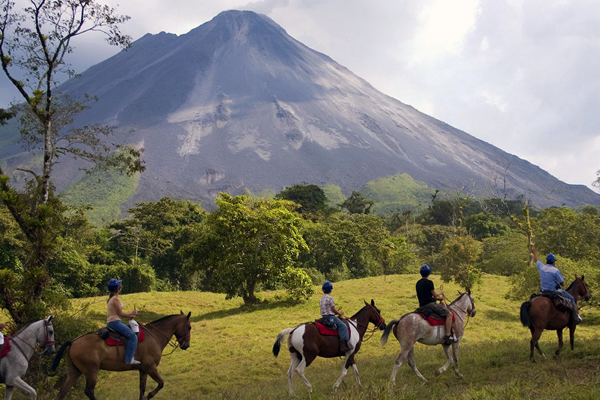 ($60 per person, tour time is 2 and half hours)
Included: Bilingual guide (English & Spanish) transportation and beverage.
Departure: 7:45 AM/10:00 AM and a final outing at 1:00PM, **depending on your hotel location**
What to Bring: Long Pants (recommended), insect repellent (if your sensitive to bugs), camera, and sun screen
***Coconut oil and oregano oil mix is a great insect and sun block***
Explore some of Costa Rica's most beautiful landscapes, forest, jungles, waterfalls, blue rivers, Caves and Volcanoes.
PACR only offers hiking tours by certified naturalistic guides with years of experience, passion and respect for Costa Rica and all of its Pura Vida. Tours range in intensity and are available for people of ages, a proper analysis will be done to insure the visitors safety, good physical condition is required for most of the hikes offered.
Click link for information on Costa Rica's Natural Wonders and discover the Pura Vida>>>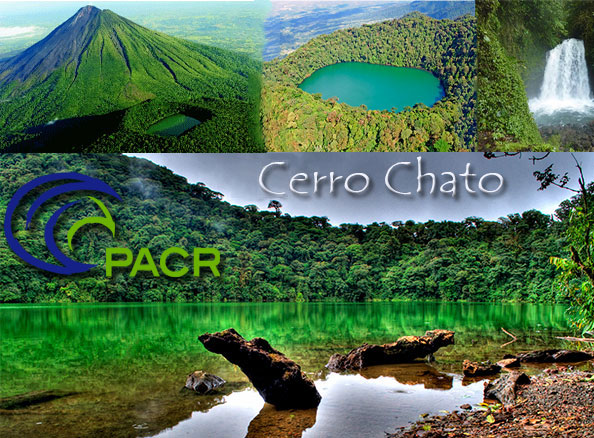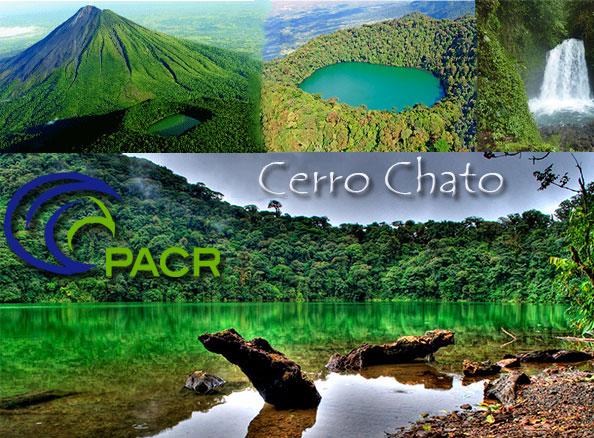 Last known eruption of Cerro Chato was dated at about 3500 years ago. Following this eruption the 1140-m-high stratovolcano contained a 500-m-wide summit crater that is partially filled by Laguna Cerro Chato. Activity at Cerro Chato dates back to 38,000 years, and prior to its yield of activity it was active concurrently with Arenal for several thousand years.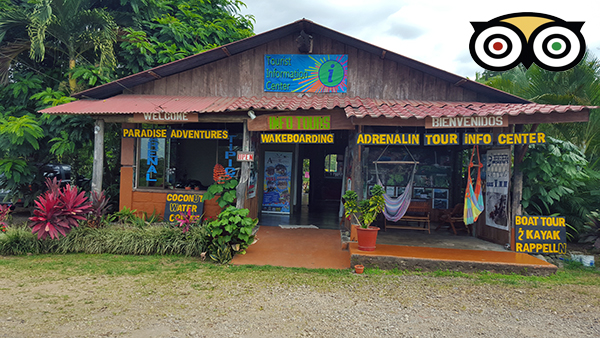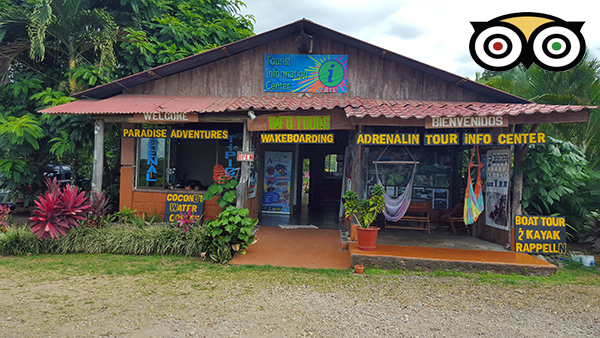 2015 has started out with lots of positive change for Paradise Adventures Costa Rica. I came to Costa Rica to live a life of freedom, a life where I can raise a family, be with them and explore Costa Rica and share these findings with others. Over the last few years I found myself returning to a style of living that I left behind, one with alarm clocks, competition and helping people who do not deserve it. I am fortunate to have awakened from this sleep and to escape the grasp before it consumed more of my family's freedoms, time and respect. I am happy to say that PACR has returned to the roots of Costa Rica, out of the concrete and back to the Pura Vida. Our new location has more space, surrounded by nature, outstanding Volcano views, tropical gardens and a short drive from downtown La Fortuna. Direction from San Jose or Liberia Sofia, Valentina and I are very excited about this new journey, a new canvas is in place and we welcome you to come join in the fun. We have watched PACR grow from many locations and nature has always been our favorite. We will be offering the same quality of service and have less detractions, giving us more time to discover new locations and activities throughout Costa Rica; not just La Fortuna. Many come to Costa Rica for its Rainforest, Cloud Forest, Pacific Coast, Caribbean and it's all accessible. PACR has created many relationships with like minded people interested in sharing the magic of Costa Rica with visitors who come from all parts of the globe. This community is of an innocent era, whose minds have not been corrupted by large profits and greed. We all work together with the same goal at heart, insure visitors are informed of the many options available so they can make and educated decision on what suits their travel, adventure needs. You may have noticed our AirBnB profile, if not please have a look. AirBnB is a online community offering lodging options of all types. PACR works with the Customer from start to finish we are more than and adventures company, we are the whole package, whether its adventures, lodging, dining or shopping, we can help. Our guests become friends the moment we meet them and create trust, finding people you can trust while visiting a foreign country adds a ton of convenience and saves time and money. We invite you to visit our new location for a test drive, we guarantee everything we provide will create the memories one deserves while taking a vacation, isn't that what a vacation is for??? Check out what our previous visitors had to say about the PACR experience and contact us anytime, the PACR crew is ready when you are. (more…)
Paradise Adventures Costa Rica is a tour company that specializes in wakeboarding, wakeskating, surfing and a variety of different tours throughout Costa Rica.
PACR is growing quickly and with that growth we have added additional services and adventures that we are stoked to share with you, your group or family. Here is a list of some of the new experiences available :
Rafting, zip lining, horseback, kayaking, boat tours on the 33 mile Lake Arenal, night time lava tours, ATV, natural hot springs, surf trips, Bungee Jumping, Repelling down waterfalls, fishing and transportation services.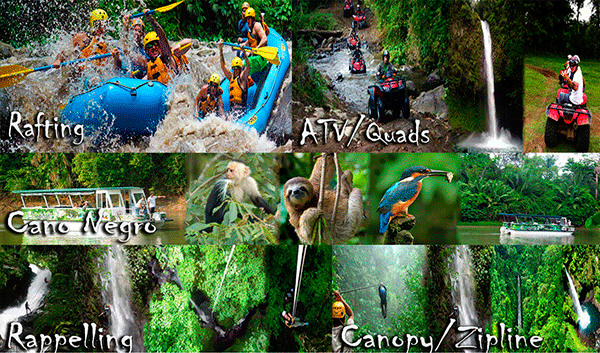 ---
Vacation Package: Adrenalin Combo "Gnar"

White water rafting Level 4, (level 5 available) includes transportation to and from river, lunch and some of the best guides in the area. (Tour last for 7 hours.)
The longest, tallest and fastest Zip line in Costa Rica. (Tour last for 2 hours), The Tram ride to the top allows you to take in the Arenal Volcano and 33 mile Lake Arenal Bellow.
Repelling down waterfalls , (tour last 4 hours) and includes lunch.
Horseback riding, El Castillo trail riding (4 hours)
ATV rentals, through Farms, river and alongside volcano, tour last (2-3 hours), Lunch included
Thermal Hot Springs, naturally heated from the Arenal Volcano (evening and day trips available)
Waterfalls and Rope Swing