Horseback riding to the Canyon of the Arenal River
A real horseback ride through private farms surrounded by dense jungle, primary and secondary tropical rainforest to the Canyon of the Arenal river.
All of the horses are well trained, cared for and are happy to take you along for the ride,guides have years of experience and filled with wisdom passed down through generations of Costa Rican culture.
On top of being excellent riders all guides are certified naturalistic guides, they will stop along the way to point out animal and plant life usually unnoticed to the untrained eye.
Costa Rica's bio diversity is often described as intense, the horseback riding will conveniently bring you and your family through a nature rich environment in the basin of the world famous Arenal Volcano.
Getting up close and personal to the Arenal Volcano while learning of its history on horse is a natural adventure for people of all ages and will leave the whole family even more impressed of Costa Rica's Pura Vida.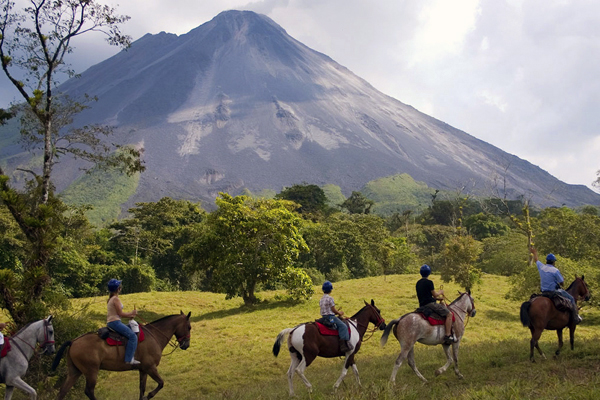 ($65 per person, tour duration 3 hours)
Included: Bilingual guide (English & Spanish) transportation and beverage.
Departure: 8:00 AM and a final outing at 1:00PM, **depending on your hotel location**
What to Bring: Long Pants (recommended), insect repellent (if your sensitive to bugs), camera, and sun screen
Comments and Feedback Appreciated