Hiking through some of Costa Rica's most beautiful landscapes, forest, jungles, waterfalls, Rio Celeste, Caves and Arenal Volcano.
PACR only offers hiking tours by certified naturalistic guides with years of experience, passion and respect for Costa Rica and all of its Pura Vida. Tours range in intensity and are available for people of ages, a proper analysis will be done to insure the visitors safety, good physical condition is required for most of the hikes offered. Click link for information on Costa Rica's
---
Natural Wonders and discover the Pura Vida>>>Volcano Tour (Lava Fields, 1968) Moderate
A real walk in the rain forest in an area of conservation, crossing rivers to reach Arenal Volcano's Lava fields of 1968,1993 and the most recent 2010; when the volcano went into another snooze.
*The lava field terrain can be a bit challenging but well worth the effort.
Details:  Time: 8AM or 2:30PM, Duration: 3 hours $56.00 Children $28.00
*Optional 2 hour soak in hot water river
Includes: transportation, Entrance fee, bilingual guide and 2 hours in the lava fields.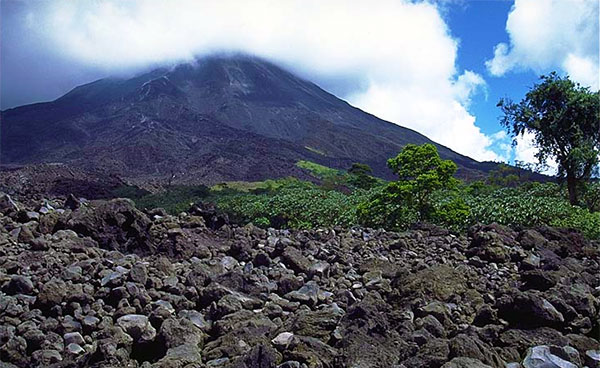 The pre-1968 summit of Arenal forms the peak to the left. Eruptions originating from four craters on the west flank extending from the summit to 1100 m on the middle western flank constructed the fresh, UN-vegetated cone seen at the right and a lava-flow field on the lower western flank. The volcano is the centerpiece of Arenal National Park. Arenal towers above forests along the Rio Agua Caliente on the WSW side of the volcano. The 12,016 hectare Volcan Arenal National Park lies within the 204,000 hectare Arenal Conservation Area, which combines to protect eight of Costa Rica's 12 biological life zones and includes 16 protected reserves in the region between the Guanacaste and Tilaran mountain ranges.