Details and pricing of Paradise Adventures Costa Rica's Top Tours and Accommodation Recommendations, check it out and contact us when your ready to build a custom vacation package that will meet your specific interest.
With over 12 year's of experience and 0 unsatisfied customers, our expertise, positive vibe and one of a kind services guarantee you or your group a visit to Costa Rica unlike any other.
PACR is here to insure our new friends a comfortable and safe journey while visiting La Fortuna and the many other amazing locations found throughout Costa Rica
We appreciate the opportunity to share our Adrenalin, fun filled activities and top quality vacation services with you; experience the Magic of Costa Rica with us today.
Our phone is on 24 hours day, If you would like to speak to someone from the PACR Crew do not hesitate to call, we are eager to provide you with a vacation experience your looking for.
Mobile (506)8856-3618 Live Chat Facebook Messenger
Read our reviews and find out firsthand what our new friends have to say and get back to us with any questions.
---
Answer the following questions so we can start creating your vacation package together, providing PACR with information simplifies and helps personalize your travel agenda.
How many people are you traveling with?
Are you interested in tours/adventure/activities in the area?
How many days/weeks do you plan on visiting Costa Rica?
Are you looking for accommodations?
What level of accommodations suits you?
Do you require an Airport Pick-Up, or help renting a car?
If you have any special needs or more information that may help customize your package feel free to send it.
We will be back to you shortly
---
White water Rafting: Book it with PACR and Save!
One of  PACR's top recommendation, Certified Swift White Water Technicians, Tropical Location and delicious food create an Adrenalin fun filled adventure you'll never forget.
Takes place on one of the most beautiful white water sections in Costa Rica, strong physical condition and good listening skills required for this one of a kind adventure; the guides will take care of the rest.
***Tour is conducted by the certified rafting guides, Safety and quality is their number one priority.
All guides are CPR, first AID and swift water technicians***
Pick up is 9:00AM and finishes up at around 4pm, 2 and a half hours of rafting
Tour includes:
Transportation to and from the river, comfortable spacious bus
Best guides in the area, real people sharing their passion and loving doing so
Fruit snack (Pineapple & Watermelon) 30 minute break on the riverbank, taking in the beauty of the tropical forest before heading back out for more white water action.
Towels and Ice Cold Beers with the guides (After the Rafting)
Large Costa Rican style lunch (Casado) plenty of delicious food to help refuel after an amazing time with great people from one of my all time favorite locations in Costa Rica.
$65.00 USD Per Person *(Contact the PACR crew for group rates and package pricing)
---
Rafting Video, Level 4, TORO River
---
NOW available is the Pacuare River, rated as one of the top 5 white water section in the world.
Full day tour level 4 Rafting includes:
Breakfast,
Rafting,
4 hours, 38 rapids covering 35klm of the Pacuare River
Lunch
Transportation From La Fortuna to the Caribbean, San Jose or Vice Versa
Full day, Early Start 5:30am depending on pick Up Location, Drop off By 6/7PM $99.00 per person
Includes: Transportation/Transfer, breakfast, lunch and from the Caribean, San Jose and La Fortuna.
---
Zipline Canopy Tour Over Waterfalls!
Adventure Culture and Pura Vida in one place
Tour starts with and introduction to the adventure park and a quick lesson on how to Zipline through the canopy and Rappelling down waterfalls. (Zipline Rappel Combo Available)
You will than take a bus ride to the top, where you can look out unto a gorgeous tropical canopy, the La Fortuna, Pino Blanco waterfall and Arenal Volcano.
Next you will take a 20 minute hike through the jungle accompanied with a highly trained guide to explain to you the importance of the area and help you discovery any wildlife along the way.
The zipline starts with two small practice cables and then it's on to the main attraction.
12 cables, 3 kilometers in total, one stretching 980 meters over the famous La Fortuna waterfall, another 2 cables over the Pino Blanco waterfall and the remaining ziplines through the multiple layers of tropical canopy and rivers below.
The zipline finishes up at a Maleku Indian Village, here you will meet real Costa Rican Natives living off the land and learn about Costa Rica's indigenous groups past and present.
---
Don't have time for the 12 cables?, 7 cable zipline saves time money!
includes the longest cables, all three over the waterfalls; no horseback option.
*Recommended for people who have ziplined before and do not feel the need for some practice zipline.
7 zipline Adult price $51.00 per person
Children ages 8-11= 7 zipline = $40.00 per person
Tour Times 8:00, 10:30 and 1:30PM *(horseback not available with 7)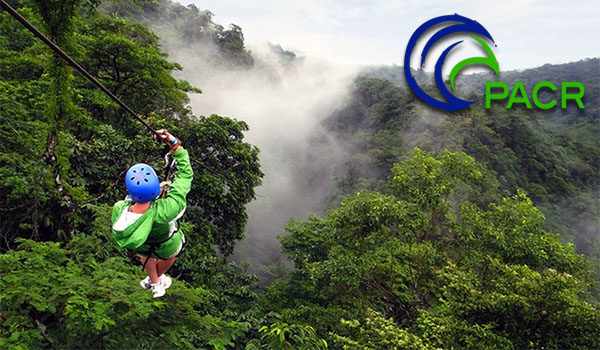 Now it's time to get on a horse (if desired $10.00) and continue through the pasture lands and secondary forest, small ride(20 minutes), no experience needed, horses are trained.
Upon finishing the tour you are welcomed to explore the butterfly farm, trails and tropical gardens and moderate hour and half hike to the La Fortuna waterfall at no additional Charge.
Zipline Canopy Tour (La Fortuna) : 
12 zip lines $69.00, 7 zip lines $51.00 per person
12 ziplines Children ages 8-11= $53.00 7 ziplines = $40.00 per person
Tour Times 8:00AM, 10:30AM and 1:30PM
---
"NEW COMBO" Not sure which one to chose, Rappelling or Ziplinning?, do both…
Spend less time changing lines and waiting for others to do the same.  The single rappel down the giant Pino Blanco Waterfall is longer than most rappel companies descents put together; the longest single rappell in Costa Rica.
Designed to save time, money and allow visitors to experience more of the adventures available in La Fortuna.
Included in Combo Rappel:
All activities listed above, one giant rappel down and 80 meter waterfall and local Costa Rican Lunch (Casado)
Tour times:
8:00AM and 10:30 and 1:30PM, tour duration 5 hours, lunch and transportation included.
Pricing: $113.00 Per Person. **(age requirement 11+)**
Thanks for taking the time to discover this new combo, contact PACR for availability.
---
ATV/Quads Tours:
Guided ATV tour through Private Farm, alongside rivers, and up close and personal to the Arenal Volcano.
ATV are we maintened, experinced guides will take good care of you and share some knowledge of Costa Rica's Intense Bio Diversity.
Tour last (3 hours), Lunch or dinner included.Option B is guide tour to the Fortuna Waterfall and lunch.
Details: $99 double machine and $85 for single.
Tour times 7:30AM, 11:00 and 2:30PM 
---
Cano Negro Wildlife Refuge (Boat)
Into bird watching?, want to see an abundance of plant and wildlife? Then this is the tour for you.
The Unique Cano Negro Tour takes place from one of Costa Rica's most bio-diverse reserves, famous for birds and home for many other life; including Monkeys, Caimans, Sloths, Bats and a variety of Flora and Fauna.
Enjoy a slow cruise through Cano Negro, silently and safely passing through the national refuge in comfort on board a large covered boat, with plenty of room to walk around to take in the Pura Vida that surrounds you.
Tour Time: 7:15 – 3:30pm
Includes: Transportation, Naturalist guide, welcome drink and snack, bottled water, entrance fee to park and Typical lunch at El Caiman Restaurant, situated upon the river banks of Rio frio, lots of food and a great way to finish this relaxing tour filled with the Pura Vida and Costa Rica Charm.
$65.00 per person(Adult) kids 0-3 are free and ages 3-11 $45.50
---
Baldi Hotsprings Resort and Spa
Natural Thermal Hotsrpings rich in minerals and healing properties surrounded by lush tropical gardens.
located 7 minutes from La Fortuna Center situated at the base of the famous Arenal Volcano, enjoy the spectacular views while exploring the variety of pools ranging in temperature from 89 -152 degrees Fahrenheit (31-66 Celsius).
12 hour Day Pass grants guest access to thermal pools filled with the healing powers of the crystalline waters, a perfect place to relax and rejuvenate after a day of fun and adventure.
Explore the 25 thermal pools, hot and cool, 60 person Jacuzzi, crystalline waterfalls, largest sauna in the country, extreme water slides, Kids Zone (appropriate fun for all children, allowing parents to relax and enjoy their vacation)
Large Costa Rican style lunch or dinner buffet for sure to satisfy, prepared fresh daily.
I take my family here at least once a month, hands down the hottest, largest, cleanest and most bountiful hotspring I've found;  an enjoyable experience for the whole family.
$42.00 USD per person: KIDS 1-6 Free ages 6-10 $30.oo USD *(Regular price $57)*
Open 10:00AM – 10:00PM Lunch 12:00PM -3 PM Dinner 5:00 – 9:00PM
---
Horseback riding to the Canyon of the Arenal River ($65 per person)
A real horseback ride through private farms surrounded by dense jungle, primary and secondary tropical rain forest to the Canyon of the Arenal river.
All of the horses are well trained, cared for and are happy to take you along for the ride,
guides have years of experience and filled with wisdom passed down through generations of Costa Rican culture.
On top of being excellent riders all guides are certified naturalistic guides, they will stop along the way to point out animal and plant life usually unnoticed to the untrained eye.
Costa Rica's bio diversity is often described as intense, the horseback riding will conveniently bring you and your family through a nature rich environment in the basin of the world famous Arenal Volcano.
Getting up close and personal to the Arenal Volcano while learning of its history on horse is a natural adventure for people of all ages and will leave the whole family even more impressed of Costa Rica's Pura Vida.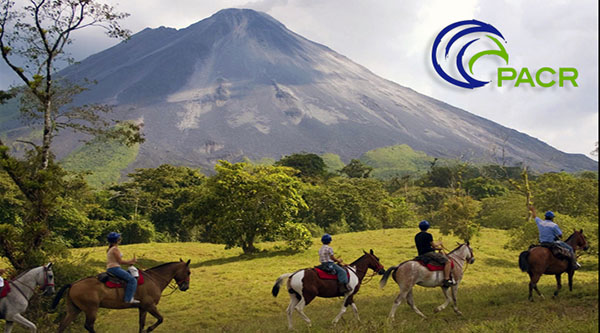 Included: Bilingual guide (English & Spanish) transportation and beverage.
Departure: 8:00AM and a final outing at 1:00PM, **depending on your hotel location**
What to Bring: Long Pants (recommended), insect repellent (if your sensitive to bugs), camera, and sun screen
***Coconut oil and oregano oil mix is a great insect and sun block***
---
Explore some of Costa Rica's most beautiful landscapes, forest, jungles, waterfalls, blue rivers, Caves and Volcanoes.
PACR only offers hiking tours by certified naturalistic guides with years of experience, passion and respect for Costa Rica and all of its Pura Vida. Tours range in intensity and are available for people of ages, a proper analysis will be done to insure the visitors safety, good physical condition is required for most of the hikes offered.


The awe-inspiring Rio Celeste (Light Blue River) is turned literally blue due to the emanation of sulfur from the volcano and precipitation of calcium carbonate. Thermal springs and small geysers dot the area as do rivers, waterfalls, lagoons and panoramic views. The upper area of the park is dominated by primary cloud forest, while the lower regions are carpeted with rain forest. The Tapir and the rarely seen Puma reside in the area.
Click link for information on Costa Rica's Natural Wonders and discover the Pura Vida>>>
---
Cabins are equipped with small kitchen (fridge, coffee maker, rice cooker, hot plate) fans, satellite TV, hot water and WiFi. Large loft style Cabins available for groups of up to 8 people
For more details and other accommodation options please visit my AirBnB profile
---
Send us your request through the Contact Page and your requested dates will be secured, insuring availability.
If you have any other question let me know, I am here to help. (Jonathan Turcotte, Owner Operator )
We look forward to providing you with a one of kind experiences from this unique location.
---