White Water Rafting: Book it with PACR and Save!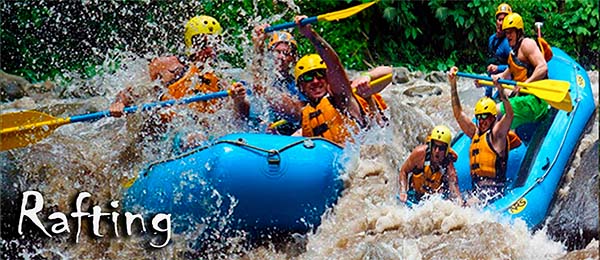 One of  PACR's top recommendation, Certified Swift White Water Technicians, Tropical Location and delicious food create an Adrenalin fun filled adventure you'll never forget.
Takes place on one of the most beautiful white water sections in Costa Rica, Strong physical condition and good listening skills is required for this one of a kind adventure; the guides will take care of the rest.
***Conducted by Certified Rafting Guides, Safety and quality is their number one priority***
Pick up is 9:00AM and finishes up at around 4pm, 2.5 hours of rafting
Tour includes:
Transportation to and from the river, comfortable spacious bus
Best guides in the area, real people sharing their passion and loving doing so
Fruit snack (Pineapple & Watermelon) 30 minute break on the riverbank, taking in the beauty of the tropical forest before heading back out for more white water action.
Towels and Ice Cold Beers with the guides (After the Rafting)
Large Costa Rican style lunch (Casado) plenty of delicious food to help refuel after an amazing time with great people from one of my all time favorite locations in Costa Rica.
$65.00 USD Per Person *(Contact the PACR crew for group rates and package pricing)
Great fun for the whole family!*tour intensity adjusted to experience and comfort level of group*
Variety of level 2- 4 rapids, proper assessment is always taken to insure your safety.
NOTICE: No rivers are classified as level 4, or 3… this is a selling tactic to charge more for the tour.
Rapid levels change throughout the days and section of river.
Take a break along the shoreline, refuel and recharge for more fun and adrenaline on the river.
Gratitude and thanks for taking the time to visit PACR's site
Paradise Adventure Costa Rica appreciates the opportunity to help the locals and create a true Costa Rican vacation experience you'll never forget.
Our professional service and over 15 years' experience help visitors while staying in La Fortuna and traveling to other parts of Costa Rica. Customer do not pay extra for this convenience, all of our prices are guaranteed and all of the companies we help represent appreciate and recognize our efforts, we all work together for the customers satisfaction.
Pura Vida, Jonathan Turcotte,