Get to know Costa Rica and its Pura Vida
This section of the Website is dedicated to informing people of Costa Rica's destinations, cultures lifestyles, travel tips, weather, places to stay, events, sports and whatever else we can find that visitors may find useful while planning and traveling in Paradise.
Costa Rica is a small country with allot to offer, making it difficult to take it all in it all in one or two weeks, which is where PACR can help. Our knowledge of the country can point visitors in the right directions so they at least get to experience activities of interest rather then randomness. Each province provides a new experience, drive two hours in any direction and you find yourself in a different climate with different people and cultures.
Feel free to post questions or comments in this section; together we can help more coming to Costa Rica make the most of their trip.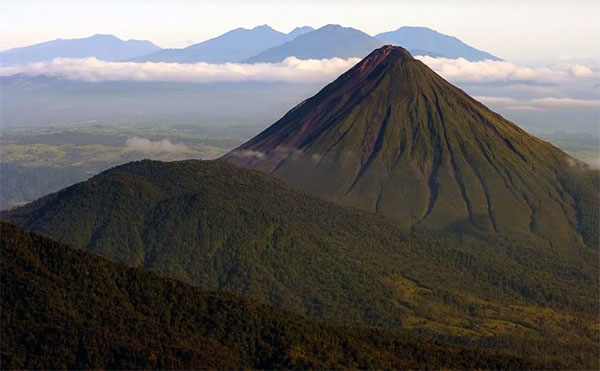 Arenal Volcano, is an active andesitic stratovolcano in north-western Costa Rica. The Arenal volcano measures at least 1,633 m. It is conically shaped with a crater spanning 140 m. Geologically, Arenal is considered a young volcano and the age is estimated to be less than 7,000 years. The volcano was dormant for hundreds of years and exhibited a single crater at its summit, with minor fumaroles activity, covered by dense vegetation. In 1968 it erupted unexpectedly. Due to the eruption three more craters were created on the western flanks but only one of them still exists today. Since October 2010, Arenal"s volcanic activity appears to be decreasing and explosions have become rare. Arenal was Costa Rica"s most active volcano until 2010, and one of the ten most active volcanoes in the world. It has been studied by seismologists for many years. Although the activity nowadays is less damaging, you can still see ash columns and hear underground rumbling. With its perfect conical shape it allows breathtaking views of volcanic action in the summit.
---
La Fortuna is situated at the base, 4 miles to the Active Arenal Volcano.  Visitors can get to Fortuna by bus, car or plane. The road from both of Costa Rica's airports are paved, well marked with reflectors and scenic, the plane is a 12 passenger that flies low allowing you to see Costa Rica's beautiful landscapes, sit back and enjoy the many waterfalls, rivers and volcanoes.
Coming from Liberia or San Jose takes about 3 hours by car and a little longer by bus. The local busses are super affordable, comfortable and safe, they can pretty much take you anywhere in the whole country. The road from San Jose is mainly straight through farm land and flowing hills. Coming from Liberia is hot and straight for the first 3 quarters; the final leg is up in the mountains, through the rain forest and around Lake Arenal
The charming town of La Fortuna was designed to offer spectacular views of the active Arenal Volcano. The central park is full of tropical plants, flowers and lined with benches where you can sit and enjoy the volcanoes activity.
Remember to watch where you are going while touring the local art shops, Cafe's, souvenir shops and restaurants, often visitors are running into each other as their attention is quickly fixed on the Active Arenal Volcano; rumbling and smoking. There are plenty of comfortable places to sit and enjoy this spectacular event.
Take a 10 minute drive to the North West side of the Volcano to witness flowing red lava and boulders, watching the earth give birth to new life is humbling, this experience displays how much power the earth really has.
(Volcano has not shown signs of increased activity since October 2011)
The Arenal Volcano has its own National Park (Parque National Vulcan Arenal) 
This almost 30,000 acre national park allows visitors to get an even better understanding of the Arenal Volcano and a much closer look.  The Flora and fauna found it this primary rain forest is some of the newest on earth.
There's a pile of  activities available from La Fortuna and area the majority of them with the volcano in your sites. The most popular tours in the area include:
relaxing in the various hot springs, white water rafting , repelling down waterfalls, zip lining through the rain forest, horseback riding in the tropical jungle through rivers and alongside the volcano, ATV adventures and my absolute Favorite, wakeboarding at the base of the active Arenal Volcano on Lake Arenal.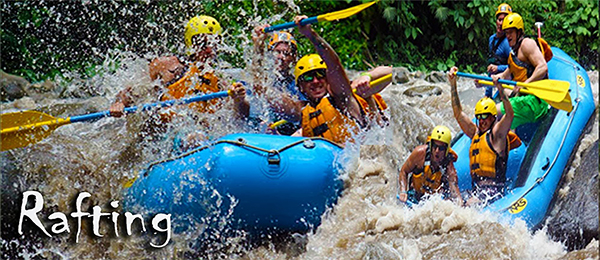 There are plenty of nature hikes in the area; the one I highly recommend is the climb to Cerro Chatto Lake.  Vulcan Chatto is a dormant volcano; its crater is filled from hundreds of year of rain fall. It is an intense uphill hike to over 3,500 feet but I assure you it is worth every step of the way.  Park hours are from 8am to 6pm and the entrance fee is currently $15.
The La Fortuna Waterfall is another one of Mother Nature's tours. Take a short 4klm hike from La Fortuna and you will be standing up top of the 230 foot waterfall.  Gaze upon the power of water as it rolls of and dumps into the fresh rejuvenating pools bellow. Hike down the base to the pools to recharge, relax and take some photos. Waterfalls are open from 8-6pm and have an entrance fee of $15.
If you have any question about the listed areas, activities and accommodations contact us for more information.
---
101 Most Important things to know about Costa Rica
1. Costa Rica is a small country located in Central America.
2. Costa Rica's capital is San Jose, located in the center of the country. San Jose is the political and economical center of the country.
3. It is located 10º North of the equator and 84º West of the Prime Meridian; 9°55?N and 84°4?W.
4. The country has a land extension of 51.100 km2 and 589.000 km2 of territorial waters.
5. Costa Rica official language is Spanish; there are other languages spoken in the country, such as Mekatelio or Limon Creole (55.000 people) and some other indigenous languages.
6. Costa Rica official religion is Catholicism.
7. Costa Rica has 7 provinces: San Jose, Alajuela, Cartago, Heredia, Limón, Puntarenas y Guanacaste.
8. Costa Ricans call themselves Ticos and Ticas, or Costar Ricans.
9. It is said to be one of the happiest countries on Earth according to a British organization called New Economic Foundation, which used the Happy Planet Index in an independent study of 143 nations around the world.
10. There are 4,509,290 Costa Ricans (2009), with a population density of 85/km2.
11. San Jose province has a population of 1.547.760 people.
12. Costa Rica is a democratic country with elections every 4 years.
13. Costa Rica is a neutral country that does not take sides in any world`s war or conflict.
14. Costa Rica is a friendly and peaceful country.
15. Costa Rica`s Time Zone is UTC-6.
16. Costa Rica country code is +506, and the Internet TLD is .cr.
17. Costa Rica`s popular saying is PURA VIDA.
HISTORY
18. Costa Rica was discovered by Christopher Columbus in 1502 in his third trip. The first place he landed in Costa Rica was what is now known as Limón.
19. Costa Rica was a Spanish Colony until September 15, 1821, and recognized as an independent country by Spain in 1850.
20. The first president of Costa Rica was Juan Mora Fernandez from the Liberal Party (1825-1833)
21. Costa Rica has had 125 years of uninterrupted democracy.
22. The official heroe of Costa Rica is Juan Santamaria. He burned the Meson de Guerra in Rivas where the Filibusters,commaned by William Walker, were hiding. Costa Rica`s victory was based on that action on April 11, 1856.
23. Costa Rica`s President is Laura Chinchilla (2010-2014); the first woman elected president of Costa Rica.
24. Costa Rica has no army. It was abolished by President Jose Maria Figueres in 1948.
25. Costa Rica invests the money that is supposed to go to the army, in education and health.
26. Costa Rica`s former President Oscar Arias is a Peace Nobel Price winner. He won the price in 1987 based on his participation in the peace process of the Central American countries.
27. The main indigenous groups in Costa Rica are Cabécares, Huetares, Bribris, Malekus, Bruncas, Térrabas and Chorotegas among others.
28. Costa Rica`s official dates are April 11th (Juan Santamaria Day), July 25th (Guanacaste Day), August 2nd (Virgen de Los Angeles Day), September 15th (Independence Day).
29. The Costa Rican flag was designed under the French Revolution ideals of freedom and it was first used in 1848.
30. The colors of the Costa Rican flag have different meanings: blue means the sky and the opportunities, white means happiness and peace, and the red means the warmth of the people of Costa Rica.
31. The National Anthem, titled "Noble Patria, Tu Hermosa Bandera"; it reflect how proud ar Costa Ricans of their country (composed by Manuel María Gutierrez in 1853).
32. The coat of arms was created in 1849 and had its last major change on October 21, 1964, where two more stars were added.
33. The Costa Rican Constitution was created on November 7, 1949.
GEOGRAPHY
34. Costa Rica has both, Pacific coast and Caribbean coast.
35. Costa Rica borders with Nicaragua to the North and with Panama to the South.
36. Costa Rica has 1.016 km (631.31 miles) of Pacific coastline and 212 km (131.73 miles) of Caribbean coastline, with a total of 1.290 km (801.56 miles) of coastline.
37. The rainy or green season in Costa Rica begins in May and ends on November, and the dry season begins in late December and ends on April.
38. Costa Rica`s temperatures vary very little; they go from 17 ºC (62 ºF) to 27 ºC (80 ºF) approximately.
39. There are 7 active volcanoes in Costa Rica: Irazu, Poas, Turrialba, Rincon de la Vieja, Tenorio, Arenal, and Miravalles.
40. There are more than 212 volcanoes in Costa Rica, most of them are dead or dormant.
41. The highest volcano in the country is Irazú Volcano with 3.431 meters (feet).
42. The highest point in Costa Rica is Mount Chirripó (Cerro Chirripó), which has an altitude of 3.819 meters (feet). It is located in the province of Limon.
43. Costa Rica most important island is Cocos Island, which is also a National Park. It was declared World Heritage Site by the UNESCO in 1997.
44. The biggest lake in Costa Rica is Lake Arenal, although this is a manmade lake. There are other smaller lakes, such as Lake Cote, Rio IV Lagoon and Hule Lagoon.
45. Costa Rica`s largest river is Grande de Térraba River.
46. Costa Rica`s most important caves are Barra Honda (Guanacaste) and Venado Caves (Alajuela).
47. Costa Ricans claim that the Poas Volcano crater is the largest in the world, with a diameter of 1.7 km (1.05 miles).
ECONOMY
48. The official currency of Costa Rica is the Colon.
49. The exchange rate for the Colon regarding the Dollar is $1 = C560 (Feb 2010).
50. Costa Rica`s main exportation products are Coffee, Banana, Pineapple, Ornamental flowers and Tourism.
51. Costa Rica`s public transportation system is great, with routes all around the country.
52. There are three land official immigration posts, two in the border with Panama, and one located in the border with Nicaragua.
53. Costa Rica has around 18% of poverty (2009).
54. Costa Rica has a 96% of literacy, ranking 54 from 160 countries.
55. The indigenous population of Costa Rica is the 1% of the total population.
CULTURE
56. Costa Rica`s traditional dish is the Casado, which includes some kind of meat, beans, rice, salad, picadillo, and plantain.
57. Gallo Pinto is another very common dish in Costa Rica, which is a mixture of rice and black or red beans cooked together.
58. The folkloric symbols of Costa Rica are "La Carreta" , "Los Boyeros", and "La Gigantona" among others.
59. The most important archeological discovery of Costa Rica, which continues to be a mystery, is the stone spheres or Diquis Spheres, which date from 200 BC.
60. Costa Rica traditional folkloric dance is Punto Guanacasteco, which depicts courtship.
61. The official sport of Costa Rica is soccer and in second place is mountain bike and cycling .
62. The two main soccer teams in Costa Rica are Saprissa and La Liga.
63. Costa Rica`s official tree is the Guanacaste.
64. Costa Rica`s official bird is Yiguirro (Turdus Cray).
65. Costa Rica´s Patron Saint is La Virgen de los Angeles.
66. Among the most famous artists of Costa Rica are Francisco Amighetti, Gonzalo Morales Suarez, and Rodolfo Stanley.
ENVIRONMENT
67. Costa Rica is mostly known because of its true concern about the environment.
68. The first National Park of Costa Rica was Poas Volcano National Park in 1955.
69. Costa Rica`s smallest National Park is Manuel Antonio National Park.
70. Costa Rica`s largest National Park is La Amistad National Park.
71. Costa Rica has 26 National Parks, and some of the most known are Manuel Antonio, Poas, Irazu and Arenal .
72. The percentage of protected areas in the country is around 25%.
73. Costa Rica is a megadiverse country, especially in the Corcovado area , south part of the country.
74. Costa Rica is a nesting point for thousands of sea turtles. The turtles that nest in the Caribbean side are the Green Turtle and Leatherback, and the sea turtles that nest on the Pacific side are Hawksbill and Olive Ridley.
75. There are over 90 endemic species in Costa Rica.
76. There are 44 endangered species in Costa Rica.
77. La Amistad National Park, located in the south of Costa Rica, is a shared park with Panama.
78. Monteverde, located in the Alajuela Province, is the place with the highest density of orquids of the world. Costa Rica has 100 different orquid species.
79. Savegre River, located in the San Jose Province, is the cleanest river of the American Continent.
80. Costa Rica produces energy under 5 different types of technology: eolic, hydric, thermic, geothermic and solar energy.
81. Costa Rica ranks 3º on the Environmental Performance of 163 countries around the world, according to a Yale University study.
82. Addresses are given in meters; 100 meters is equivalent to a block.
TOURISM
83. One of the most important touristic activities of the country is adventure , including white water rafting, canopy, , kite boarding, windsurfing, wakeboarding, wakeskating and surfing
84. The most visited sites in Costa Rica are Manuel Antonio, Arenal, Tortuguero , Tamarindo, San Jose and Monteverde.
85. The most visited national park in Costa Rica is Manuel Antonio National Park and in second place is Poas National Park.
86. Costa Rica`s archeological site open for tourism is Guayabo, located in Turrialba.
87. Costa Rica is famous for its white water rafting in many rivers of the country but especially in Pacuare River. It is located in the Limon province and it is a level III-IV and ranks among the top ten most scenic rivers for white water rafting of the world according to National Geographic.
88. Costa Rica`s most important surfing spots are Jaco, Mal Pais, Dominical and Tamarindo.
89. Costa Rica`s most interesting river is Rio Celeste , an actual light blue river product of the combination of two different chemicals from volcanoes.
90. The most important scuba diving sites in Costa Rica are Cocos Island , Caño Island, and Cocos Beach in Guanacaste.
91. There are two international airports in the country: Juan Santamaria International Airport (around 12 km from San Jose), and Daniel Oduber International Airport in Liberia, Guanacaste (around km from San Jose).
92. The airport exit tax is $26 per person.
93. There are many different restaurants and bars in San Jose. International Gastronomy options include Indian, Lebanese, Italian, French, German, Nicaraguan, and American.
94. Costa Rica`s national beer is Imperial.
95. Costa Rica`s main Museums are: the Golden Museum, the Jade Museum, the Museum of Contemporary art among others.
96. The most visited beaches are Tamarindo, Montezuma, Samara, Papagayo and Manuel Antonio.
VARIOUS
97. Costa Rica uses 120 volts of electricity.
98. The small town mini markets are called "Pulperias ".
99. Ticos and Ticas use the word "maje" or "mae" to refer to a friend, a pal or other person.
100.Taxis in Costa Rica are red and they use a "Maria" or taximeter to set the amount to pay for a ride.
101.Franklin Chang Díaz is a famous Tico that works for NASA and has gone in spatial trips.
---
Tribute to the Arenal Volcano
Arenal Volcano Facts:
Status: Active
Type: Andesitic Stratovolcano
Height: 5,358 feet, 1,633 meters
Crater: 460 feet, 140 meters
Shape:  conically shaped,
Age: young less than 7000 years
Other names for Arenal Volcano: Canasta, Volcan Costa Rica, Volcan Rio Frio, Pan De Azucar, Guatusos Peak.
Location: The Arenal Volcano is Located 95 km northwest of Costa Rica's capital; San Jose, Klm's away from the town of La Fortuna de San Carlos.
Last Major Eruption: 1968
Hundreds of years of pressure, dust, sediment, gasses, lava and boulders were released from the Arenal Volcano, some boulders weighing several tons, travelling at 600 meters persecond.
Monday morning July 29th 1968, approx 7:30am the Arenal Volcano fiercely exploded, creating a huge hole in the mountainside.
The eruptions continued for several days and thoroughly covered over fifteen square kilometers with molten lava, ash and rocks
Death toll: The 1968 eruption claimed the lives of 87 people and covered 3 small villages: Tabacón, Pueblo Nuevo and San Luís. The eruptions affected more than 232 square kilometers by damaging the land's crops, property, livestock, and forests.
The Arenal Volcano is Costa Rica's most active volcano and has been studied by seismologist from all over the world.  Volcanic activity has simmered since 1968; The Arenal Volcano is now a natural tourist attraction.
One can still see ash columns, Glowing red lava flows and sudden explosions daily. The shape and location of the Volcano make for an excellent view.  Visitors can take in this spectacle by hiking the trails formed along the base.
The hike through the national park is amazing, the volcanic soil makes a great base for tropical flora and fauna, its dense lushness is full in every direction, creating a true feeling of Pura Vida. Surrounded by Pura Vida you can hear the volcano rumbling as you approach it, one can even see lava flow during the day , not to mention boulders and smoke rolling down the western flanks.
The area surrounding the volcano provides watershed to Lake Arenal, created over 40 years ago for hydro electricity. The lake now provides the majority of the electricity for the whole of Costa Rica as well as irrigation for the Gunacaste Province to prevent drought.
Eruptive Vents:
Cerro Chatto, dormant stratovolcanic cone.
Closes prediction of first eruption 38,000 years ago during the Pleistocene period.
Last eruption to date, 3,500 years ago.
Arenal Volcano was unexplored until 1937 when a team made a documented expedition to the summit. Its activity has been traced back to over 7,000 years ago. Arenal Volcano is the youngest and most active mountain in all of Costa Rica.
Important dates:
July 29th 1968, 7:30 am, west area of volcano was destroyed (Tabacon) by large quantity of impact craters consisting of blocks and bombs of different sizes.
June 1975, 17th through 21st, Red hot glowing avalanches destroyed vegetation alongside Tabacon River, leaving behind a great deal of material in riverbed. Four strong eruptions spread large amounts of ash into the atmosphere, spanning 26 kilometers.
June 1984, periods of increased lava flow followed by a chain of explosive events. The explosions ranged in magnitude and began with 3 to 20 explosions per day.  Winds carried water, steam and gases down the lake to the town of Tillaran, were it lingered for months.
August 1993, a collapsed V shape crater, 60 meters deep and 100 meters wide started a series of pyroclastics flows.
March 1994, V shape crater was filled with lava and started depositing material around the crater.
March 1996, regular lava flows teamed with intermittent explosions of gases, this activity was the norm until May 5 1998.
May 5th 1998, Series of Large eruptions until Tuesday afternoon 1:05pm when a part of the northwest wall of the crater crumbled, major amounts of lava, rock and ash produced.
Costa Rican Volcanic and Seismic Observatory described the event as normal; however the amount of lava within the crater was greater than normal, causing the volcano to release more lava.
The lava flow combined with the collapse of a crater wall also caused a landslide, this chain of events created consequences that were greater than normal.
Authorities declared a red alert and closed the road running along the north side of the volcano, from La Fortuna and Tilaran. Over 450 people were evacuated from hotels and tourist related businesses, no injuries reported.
Activity continued throughout the day but decreased significantly, everything seemed to be back to normal until a few days later, May 7Th.
May 7th 1998, a Major eruption damaging two square kilometers and destroying a 400 by 100 meter area of green forest. A crack on the wall of the crater 10 meters deep and 500 meters long appeared and materiel poured out down the side of the volcano. 23 eruptions were reported that day of May 7th, from 1:05 pm to 7pm; shortly after the volcano was returned to its normal state. That same week the authorities reopened the national park and seismologist declared no signs of irregular activity.
August 23rd 2000, 10:00am
The ash and gas columns reached more 1 klm in height, and thick black ash clouds dropped blankets of sot over the towns bellow. The ash fall even brought darkness over Arenal and area, spreading to the town of Tilaran over 20klm west. There was an estimated 20 avalanches of molten lava, ash and gases that day.
The constant research of seismic data collected by the Miravalles-Arenal Seismological and Volcanological Observatory (OSIVAM) and National Seismolgical Network (RSN) saved lives during the August 23 events. Their instruments informed them of increased tremor signals several hours prior to the first eruption.
The Arenal Volcano was starting to simmer until it produced one the most powerful explosions since 1968. The explosion was responsible to the death of 2 of the 3 adventures exploring the volcano that afternoon. A Costa Rican tour guide managed to get them to shelter, but it was to late, Guide Ignacio Protti, died of third degree burn wounds as well as the one tourist one week following.
Like many adventures and explorers the two tourists were drawn to the active Arenal Volcano so they climbed to the vantage point 2 kilometer up the North Slope to get a better look at the summit; what they witnessed was shocking. A pyroclastic flow emerged from the crater and headed straight for them at speeds over 80klm an hour it is a wonder they made it out at all.
Some trails have been closed for safety following this tragic event and are still closed 10 years later.
Curiosity claimed the lives of more a few days later. A plane with 8 passenger and 2 pilots was flying 30 klm of course to get a better look at the Volcanoes most recent activity, this proved to be a fatal mistake.
A few months later the same mistake took place, another plane in the exact same vicinity.
The wreckage located on the banks of the volcano near the crater can still be seen from Los Lagos Hotel. The Fortuna airport was closed for safety reason for five years and has been reopened since May 2005.
All hotels and amenities in the Arenal area are at a safe distance from the volcano, it is what you cannot see that can harm you. Explorers must follow they warning signs, they are there for your protection. The toxins and gases travel at a much faster speed then one can run.
It is very safe to visit Arenal and Area; it is the most monitored volcano in Costa Rica. The Arenal Volcano is active and has been since 1968, releasing steam is better than building. Follow the warning signs and respect the efforts put into keeping travelers safe during their visit.
Death Stats:
The Arenal Volcano is one of the travelled destinations in the whole country, with over 200,000 visitors per year and only two lives were claimed by hiking the volcano.
Do not let this article deter you from visiting the Arenal Volcano, it is written to inform you that the volcano is safe and a sight to see. The national Commissions of Emergencies of Costa Rica has put allot of energy into posting sign in areas of caution, read them and abide by them and you will be fine.
More heat from Arenal Volcano, Septmeber 5th 2003, 11:55am
The most activity reported since August 23, 2000. Minutes before noon a portion of the wall on one of the active craters collapsed and caused a chain reaction of 4 pyroclastic avalanches in less than an hour.
The speeds at which the mixture of ashes, rocks and lava traveled was remarkable, the nuee ardente travlled at speeds over 200klm an hour for a distance of over 2500 feet
A green alert was issued, closing nearby hotels, The national park and hot springs it was shortly removed 3 hours later.
No victims or property damage from this event.
Since the Iceland eruption more activity has been occurring from the Arenal Volcano
May 2010, another wall falls and an increase in activity has taken place over the last 30 days, more thunderous eruptions of black smoke continue, yesterday I witnessed 5 myself, morning and late afternoon.
This area of the website will be updated regularly with volcanic events throughout the country as well as news and anything else we may find interesting to vacations and thrill seekers.
Comment and share this article
Pura Vida, Jonathan Turcotte
Owner Operator, Paradise Adventures Costa Rica
This information was created from a collection of news and articles found throughout the web, Mainly La Nacion, it has all been written and copy wrote by PACR
---
Lake Arenal Costa Rica – 33 Mile Fresh Water Lake In Paradise
Lake Arenal Costa Rica is unique in many ways, its location in the tropical zone on the Atlantic slope, 400 meters above sea level create a climate that is just right. Daytime temperatures reaching high of 85 -90 and nights dropping to a comfortable 60 – 65.
In 1973 ICE  (Costa Rican Institute for  Electricity) built a  dam in the eastern valley. Years later the rain and rivers filled the small pond creating a 33 square mile lake, now known as Lake Arenal. Mother nature and ICE's combined efforts proved successful; Lake Arenal is now responsible for the majority of the electricity in Costa Rica.
There are many places on Lake Arenal you can find great conditions for wakeboarding, boating, fishing, swimming, and bird watching; each having their own charm.
The base of the volcano being by far the most magical, just approaching the Arenal Volcano astounds you. The volcano rumbles,  smokes, launches  boulders and spews lava daily.
The Arenal Volcano is one of the 5 major Volcanoes being monitored for activity today.
On a clear night PACR brings customers within meters of live lava flow from the Arenal Volcano. Words cannot express how incredible this experience is. I feel fortunate to have the opportunity to witness such beauty and make an effort to share it with as many as possible.
Lake Arenal is part of the Guanacaste Province, situated between the towns of Nuevo Arenal, La Fortuna, Monterverde and Tilaran and conveniently located between Costa Rica's two major airports; The Daniel Odober Airport in Liberia and The Juan Santa Maria in San Jose the capital of Costa Rica.
From the San Jose Airport, you could make it to La Fortuna by bus or car in four and half hours or by plane in less than 40 minutes. From the Liberia Airport, you could make it here by car or bus in less than 3 hours.
Check out the rest of PACR's Website for details on how to turn your vacation into and experience of a lifetime.
Paradise Adventures on Twitter
become a fan of PACR on Facebook
Contact PACR for more details, check for availability by Calling (506)8856-3618
Live Chat via Facebook Messenger
We look forward to building a active sport vacation package together, Pura Vida!