Adventure Culture and Pura Vida in one place
Tour starts with and introduction to the adventure park and a quick lesson on how to Zipline through the canopy and Rappelling down waterfalls. (Zipline Rappel Combo Available)
You will than take a bus ride to the top, where you can look out unto a gorgeous tropical canopy, the La Fortuna, Pino Blanco waterfall and Arenal Volcano.
Next you will take a 20 minute hike through the jungle accompanied with a highly trained guide to explain to you the importance of the area and help you discovery any wildlife along the way.
The zipline starts with two small practice cables and then it's on to the main attraction.
12 cables, 3 kilometers in total, one stretching 980 meters over the famous La Fortuna waterfall, another 2 cables over the Pino Blanco waterfall and the remaining ziplines through the multiple layers of tropical canopy and rivers below.
The zipline finishes up at a Maleku Indian Village, here you will meet real Costa Rican Natives living off the land and learn about Costa Rica's indigenous groups past and present.
---
Don't have time for the 12 cables?, 7 cable zipline saves time money!
includes the longest cables, all three over the waterfalls; no horseback option.
*Recommended for people who have ziplined before and do not feel the need for some practice zipline.
7 zipline Adult price $52.00 per person
Children ages 8-11= 7 zipline = $41.00 per person
Tour Times 8:00, 10:30 and 1:30PM *(horseback not available with 7)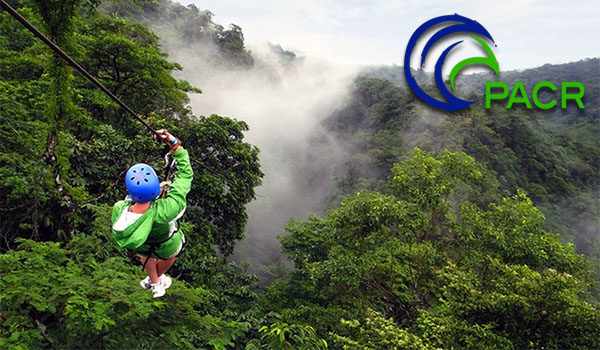 Now it's time to get on a horse (if desired $9.00) and continue through the pasture lands and secondary forest, small ride (20 minutes), no experience needed, horses are trained.
Upon finishing the tour you are welcomed to explore the butterfly farm, trails and tropical gardens and moderate hour and half hike to the La Fortuna waterfall at no additional Charge.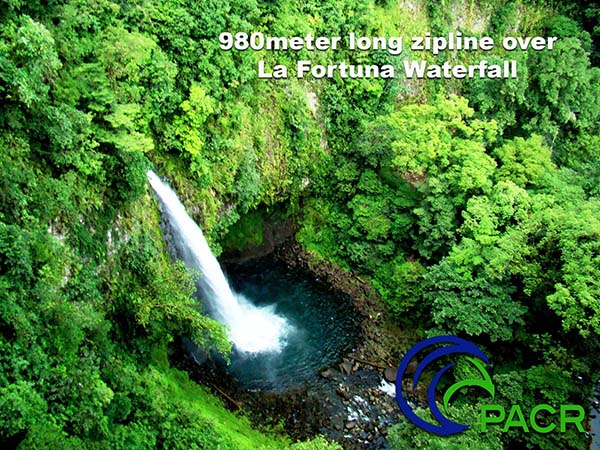 Zipline Canopy Tour (La Fortuna) : 
12 zip lines $70.00, 7 zip lines $52.00 per person
12 ziplines Children ages 8-11= $53.00 7 ziplines = $41.00 per person
Tour Times 8:00AM, 10:30AM and 1:30PM
---
"NEW COMBO" Not sure which one to chose, Rappelling or Ziplinning?, do both…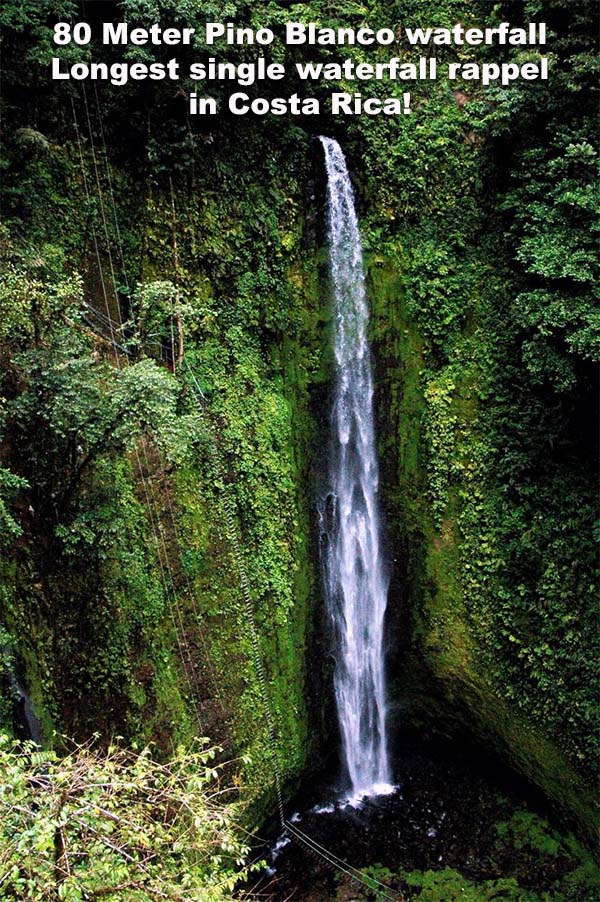 Spend less time changing lines and waiting for others to do the same. The single rappel down the giant Pino Blanco Waterfall is longer than most rappel companies descents put together; the longest single rappel in Costa Rica.
Designed to save time, money and allow visitors to experience more of the adventures available in La Fortuna.
Included in Zipline Waterfall Rappelling Combo:
All activities listed above (7 Longest Cables/ziplines 2 waterfalls Ziplines), one giant rappel down and 80 meter waterfall and local Costa Rican Lunch (Casado)
Tour times:
8:30AM and 10:30AM and Final Outing at 1:30PM
Tour duration is 5 hours, lunch and transportation included.
Pricing: $114.00 Per Person. **(age requirement 11+ years of age)**
Thanks for taking the time to discover this new Zipline Waterfall Rappelling Combo.
Contact PACR for availability.