PACR's AirBnB profile has been providing accommodations and lodging options for visitors to various parts Costa Rica for 4+ years; we are proud and grateful to be partnered with such a trustworthy company.
Airbnb's professional booking platform is safe, easy to use and eliminates the stress of finding accommodation in Costa Rica worthwhile.  We are always available before and during your stay to help plan a vacation filled with fun activities, directions and transportation arrangements and any other needs for your visit. 
The Chat option and Airbnb mobile application makes this easy, anytime, anywhere.
View some of our listing details bellow and visit our AirBnB page to read our reviews.
We are happy to help and guarantee privacy and comfort for you visit to Costa Rica.
---
Spacious, Private, Secure, and Comfortable.
Vacation Home with plenty of space for 2 -10 people
Fully equipped with all the amenities of home and then some.
Large bedrooms all with private bathroom, hot water shower and Air-conditioning.
Full use Kitchen to cook your own meals with plenty of dinning space for 10 adults.
Lounge Room with couches, Flat Panel TV and Cable.
Pool and Patio access from all rooms, large patio doors to the pool and outdoor common area.
(Washes/dryer and Security Guard)
Space
This new modern home was designed to accommodate vacationers looking for all the comforts of home. Rooms are bright and spacious all with AC and access to the outdoors. Property is conveniently Located 5 minutes to one of the nicest beaches in Costa Rica; Playa Conchal, 10 minutes to great surf and 15 minutes to more surf and cool town for some nightlife. (more…)
La Fortuna was a major transition for Paradise Adventures Costa Rica, providing us with the experience needed to take PACR to our new addition in Tamarindo Beach and Conchal Area.
After 7 years of connecting and partnering with La Fortuna's local tour operator, securing some amazing accommodation options and growing web presence with social travel sites like Tripadvisor, Goolgle, Facebook and Airbnb, PACR was making waves and what better place to ride those waves then the beach, surfs up! Tuanis!!
The PACR crew is excited about being a part of the Tamarindo Beach Scene and are already feeling the positive effects of change; will be posting more details soon, join or Facebook Fanpage, Twitter Feed and subscribe.
Paradise Adventures Costa Rica is still offering the same tours and lodging options in La Fotruna, now offering the same quality service in other activities and lodging from our new location.
Please share our success to help our fans, family, friends and future amigos find us.
Contact Us about rates and details of the new Tours and Accommodation options available.
---
Transportation Options available with PACR:
PACR offers a **10% discount** on rentals cars and can answer your questions about the available transportation options, and routes to the many locations throughout Costa Rica.
One of the best conveniences you can add to your trip to Costa Rica is a rental car.
The roads are paved, well-marked, and GPS will get you to your destinations with ease.
Shuttle service and public bus will get you to most places, Public bus will take allot longer, not as safe for your luggage, and the shuttle cost for 2 people would be similar to renting a car.
---
Shared and Private Shuttle Service:
Shuttle From Airport is $50 per person and depends on time of arrival, there is a shuttle in the morning and latest at 3PM. Private shuttle for 4 people $195.00 you chose the pickup time and location.
PACR only stared offering to help with rental cars as many people were falling for the same trick of finding a price online and being charged allot more upon arrival, hidden fees and forced premiums and a massive security deposit and deductible.
If you have any other questions at all please let me know, PACR appreciates the opportunity to help create a vacation experience you'll never forget.
Adventure Culture and Pura Vida in one place

Tour starts with and introduction to the adventure park and a quick lesson on how to Zipline through the canopy and Rappelling down waterfalls. (Zipline Rappel Combo Available)
You will than take a bus ride to the top, where you can look out unto a gorgeous tropical canopy, the La Fortuna, Pino Blanco waterfall and Arenal Volcano.
Next you will take a 20 minute hike through the jungle accompanied with a highly trained guide to explain to you the importance of the area and help you discovery any wildlife along the way.
The zipline starts with two small practice cables and then it's on to the main attraction.
12 cables, 3 kilometers in total, one stretching 980 meters over the famous La Fortuna waterfall, another 2 cables over the Pino Blanco waterfall and the remaining ziplines through the multiple layers of tropical canopy and rivers below.
The zipline finishes up at a Maleku Indian Village, here you will meet real Costa Rican Natives living off the land and learn about Costa Rica's indigenous groups past and present.
---
Don't have time for the 12 cables?, 7 cable zipline saves time money!
includes the longest cables, all three over the waterfalls; no horseback option.
*Recommended for people who have ziplined before and do not feel the need for some practice zipline.
7 zipline Adult price $51.00 per person
Children ages 8-11= 7 zipline = $40.00 per person
Tour Times 8:00, 10:30 and 1:30PM *(horseback not available with 7)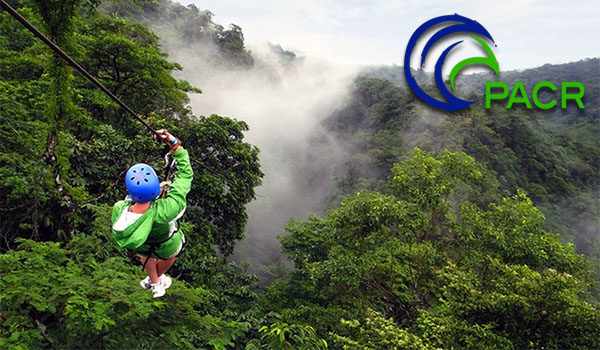 Now it's time to get on a horse (if desired $10.00) and continue through the pasture lands and secondary forest, small ride (20 minutes), no experience needed, horses are trained.
Upon finishing the tour you are welcomed to explore the butterfly farm, trails and tropical gardens and moderate hour and half hike to the La Fortuna waterfall at no additional Charge.
The Cleanest most Natural Hotsprings in Costa Rica
Baldi Hotsprings are 100% Natural, heated from a subterranean volcanic river 60 meters below the earths surface.
These relaxing, clean and bountiful thermal waters are rich in minerals and healing properties, helping vacationers detox from build up of stress and chemicals found in our daily lives.
Baldi Hotsprings are located 7 minutes from La Fortuna Center situated at the base of the famous Arenal Volcano,
Hotspings are surrounded by lush tropical gardens, sit back relax and enjoy the spectacular views while exploring the variety of pools ranging in temperature from 89 -152 degrees Fahrenheit (31-66 Celsius).
12 hour Day Pass grants guest access to thermal pools filled with the healing powers of the crystalline waters, a perfect place to relax and rejuvenate after a day of fun and adventure.
Explore the 25 thermal pools, hot and cool, 60 person Jacuzzi, crystalline waterfalls, largest sauna in the country, extreme water slides, Kids Zone (appropriate fun for all children, allowing parents to relax and enjoy their vacation)
Large Costa Rican style lunch or dinner buffet for sure to satisfy, prepared fresh daily.
I take my family here at least once a month, hands down the hottest, largest, cleanest and most bountiful hotsprings I've found; an enjoyable experience for the whole family.
$42.00 USD per person: KIDS 1-6 are ages 6-10 $30.oo USD *(Regular price $57)*
Open 10:00AM – 10:00PM Lunch 12:00PM -3 PM Dinner 5:00 – 9:00PM
***Package the Hot Springs with PACR's Top Tours/Activities and save, Group Rates Available***
White Water Rafting: Book it with PACR and Save!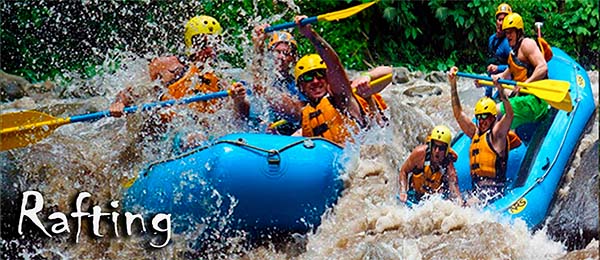 One of  PACR's top recommendation, Certified Swift White Water Technicians, Tropical Location and delicious food create an adrenalin fun filled adventure you'll never forget.
Takes place on one of the most beautiful white water sections in Costa Rica, Strong physical condition and good listening skills is required for this one of a kind adventure; the guides will take care of the rest.
***Tour is conducted by the certified rafting guides, Safety and quality is their number one priority.
All guides are CPR, first AID and swift water technicians***
Pick up is 9:00AM and finishes up at around 4pm, Level 4 River, 2 and a half hours of rafting
Tour includes:
Transportation to and from the river, comfortable spacious bus
Best guides in the area, real people sharing their passion and loving doing so
Fruit snack (Pineapple & Watermelon) 30 minute break on the riverbank, taking in the beauty of the tropical forest before heading back out for more white water action.
Towels and Ice Cold Beers with the guides (After the Rafting)
Large Costa Rican style lunch (Casado) plenty of delicious food to help refuel after an amazing time with great people from one of my all time favorite locations in Costa Rica.
$65.00 USD Per Person *(Contact the PACR crew for group rates and package pricing)
(more…)