Horseback riding to the Canyon of the Arenal Volcano River
A guided horseback tour through private farms, surrounded by dense jungle, primary, and secondary rainforest to the Canyon of the Arenal Volcano river.
Horses are well trained, cared for and happy to take you along for the ride, guides have years of experience and filled with wisdom passed down through generations of Costa Rican culture.
Certified naturalistic guides use their trained eyes and ears to share animal and plant life found throughout the Arenal Volcanoes habitat. These Professional guides will quickly train you to be your own expert so that you can fully appreciate the Costa Rica's Bio Diversity for the rest of your travels throughout this beautiful country.
Discovering the Costa Rican landscapes by horseback riding is great fun for the whole family, the tour does not require much effort and allows you to reach locations in the basin of the Arenal Volcano um-accessible by other means of transportation.
Getting up close and personal to the Arenal Volcano, while learning of its eruptive history on horseback, is a natural adventure for people of all ages, and will leave the whole family in awe of Costa Rica.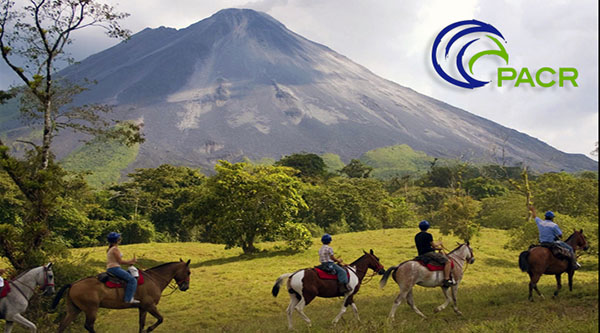 ($65 per person, tour duration 3 hours)
Included: Bilingual guide (English & Spanish) transportation and beverage.
Departure: 8:00 AM and a final outing at 1:00PM, **depending on your hotel location**
What to Bring: Long Pants (recommended), insect repellent (if your sensitive to bugs), camera, and sun screen
---
Contact PACR for more details, check for availability by Calling (506)8856-3618
Live Chat via Facebook Messenger
Hiking through some of Costa Rica's most beautiful landscapes, forest, jungles, waterfalls, Rio Celeste, Caves and Arenal Volcano.
PACR only offers hiking tours by certified naturalistic guides with years of experience, passion and respect for Costa Rica and all of its Pura Vida. Tours range in intensity and are available for people of ages, a proper analysis will be done to insure the visitors safety, good physical condition is required for most of the hikes offered. Click link for information on Costa Rica's
---
Natural Wonders and discover the Pura Vida>>>Volcano Tour (Lava Fields, 1968) Moderate
A real walk in the rain forest in an area of conservation, crossing rivers to reach Arenal Volcano's Lava fields of 1968,1993 and the most recent 2010; when the volcano went into another snooze.
*The lava field terrain can be a bit challenging but well worth the effort.
Details:  Time: 8AM or 2:30PM, Duration: 3 hours $56.00 Children $28.00
*Optional 2 hour soak in hot water river
Includes: transportation, Entrance fee, bilingual guide and 2 hours in the lava fields.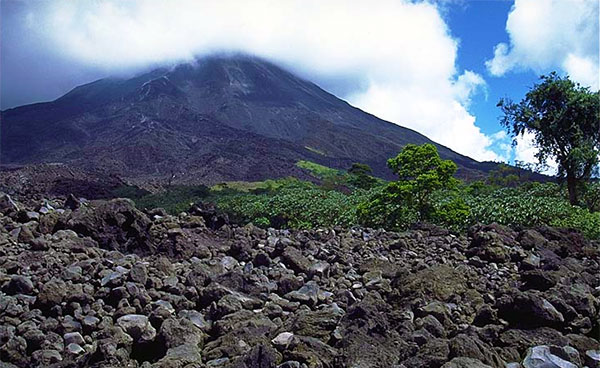 The pre-1968 summit of Arenal forms the peak to the left. Eruptions originating from four craters on the west flank extending from the summit to 1100 m on the middle western flank constructed the fresh, UN-vegetated cone seen at the right and a lava-flow field on the lower western flank. The volcano is the centerpiece of Arenal National Park. Arenal towers above forests along the Rio Agua Caliente on the WSW side of the volcano. The 12,016 hectare Volcan Arenal National Park lies within the 204,000 hectare Arenal Conservation Area, which combines to protect eight of Costa Rica's 12 biological life zones and includes 16 protected reserves in the region between the Guanacaste and Tilaran mountain ranges.  (more…)
When I first came to Costa Rica from Canada back in 2000 I was taken away from its beauty, in the people, culture, and the super-rich bio diversity which has not stopped impressing me 17 year later…
Feeling blessed after many travels throughout Costa Rica and some of the best experiences I've had I knew if I wanted to continue to live the Pura Vida that I needed to find some way to establish myself, so I did what I do best, be present clear and focused,  being in the now with a mind full of wonder guided me to the many location in Costa Rica all special in their own way, I loved the beach and had a great connection here, the ocean and endless summer is hard to beat but The adventure Capital of Costa Rica La Fortuna was calling, there was so much I had to check out…
La Fortuna was the major shift in PACR's existence, the place I meet Sofia Trejos, my love, best friend and partner. Teaming up with Sofia gave PACR the extra stability and roots needed to grow to the company we are today. After 7 years of connecting with the local tour operators and accommodation our webpresence started to take form, with Tripadvisor, Goolgle, Facebook and Airbnb,
PACR is now making waves webside and it was time to put those waves to good use; PACR was on the move and what better place to ride those waves then the beach, surfs up! We did not have much of plan, just that we wanted to find another location with lots to offer for adventure and accommodation, close enough to surf (Tamarindo) and to one of my favorite beaches in Costa Rica; Playa Conchal.
The PACR crew (Sofia, Valentina, and Myself) are very excited about this new location and are already feeling the positive effects of change.
Still offering the same adventure and lodging options in La Fotruna and are now offering the same quality service and other activities and lodging from our new local.
Please share PACR's success to help people find us and Contact Us about rates and details of the new Tours and Accommodation options available.  See you soon, Safe Travels, Pura Vida Siempre!
Paradise Adventures Costa Rica is one of La Fortunas top rated Adventure and Lodging Experts, providing visitors with first hand travel advice and tour recommendation, creating tailored Vacation Packages filled with memories that last a lifetime.
With over 12 year's of experience and 0 unsatisfied customers, our expertise, positive vibe and one of a kind services guarantee you or your group a visit to Costa Rica unlike any other.
PACR is growing quickly and with that growth we have added additional services and adventures that we are stoked to share with you, your group or family. Here is a list of some of the new experiences available :
Rafting, zip lining, horseback, kayaking, boat tours on the 33 mile Lake Arenal, night time lava tours, ATV, natural hot springs, surf trips, Bungee Jumping, Repelling down waterfalls, fishing and transportation services.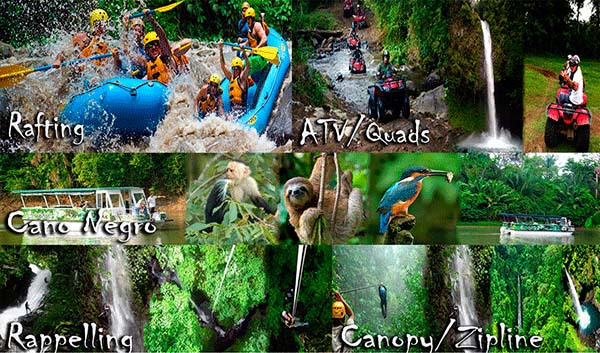 ---
Vacation Package: Adrenalin Combo "Gnar"

Includes 6 nights lodging
White Water Rafting, includes transportation to and from river, lunch and some of the best guides in the area. (Tour last for 7 hours.)
Zipline Canopy Tour 12 cables, 3 kilometers in total, one stretching 980 meters over the famous La Fortuna waterfall
Pura Vida Costa Rica by Erika Langman
Costa Rica has always been one of those destinations on every Canadian's bucket list, its tropical, has a unique Spanish-influenced culture and for the young sports enthusiasts it is the ideal destination to chase waves. After a long winter of park laps on Ontario's ice-ridden Niagara Escarpment myself and fellow rider Leslie Sparkes were drooling over the idea of margaritas, coconuts and surfer boys on white sand beaches.
Having grown up spending full summers on a lake in central Ontario I can count the number of times I have actually seen the ocean. That being said when we arrived I walked down to the beach carrying my giant long board thinking, this will be a piece of cake, I'll be graduating to a 6' board in no time. Ha. After front-rolling through about 50 waves wondering how the locals can stand up oh so effortlessly I gave up that dream pretty quickly. On a positive note I did manage to catch a couple small waves getting the infamous surf stoke.
The next day we were greeted by Canadian Pro rider Ashley Leugner who had been coaching at PACR earlier that week in La Fortuna. Reunited, we pounded back a few Imperials and set out in search of the 'bros', our new found friends from the big city of Vancouver and Toronto. They had conveniently booked a package complete with surf lessons from the local 'fabio' and were oh so gracious to share their tips with us. However, more than often they hadn't actually received any, since fabio was pretty consumed with giving the best tips to the girls in their group wearing string bikinis.
Patio beers, delicious dinner and a few Tamarindo margaritas later, we headed out for bed so we could get up to ride high tide in the AM.
After a week of surfing, catamaran rides, Argentinean barbeque (which ultimately resulted in a full day ride on the porcelain train), Jonathan Turcotte of Paradise Adventures Costa Rica picked us up to head out to La Fortuna. Driving through the hills we watched the dry grass and smell of smoke slowly be replaced by clear volcanic streams flowing into Lake Arenal at the base of the Arenal Volcano. The Arenal Volcano is the 7th most active volcano in the world, we were actually able to see smoke rising out of it on numerous occasions.
We stayed at PACR where we met Sofia, who is a Costa Rican local. She showed us where to pick coco plants, and fed us white furry Guava fruit. I was pretty skeptical at first because it closely resembled a small hamster but it ended up being pretty darn good.
After a full day of zip lining, suspension bridges, rope swings and river lounging we prepped the boat to get out to the lake and ride. First sets of the season are always a little rusty but the lake worked its magic and we all got a few good hits in. You can never go wrong wakeboarding at the base of a Volcano. Overall it was an amazing trip, a special thanks to Jonny and Sofia for the great hospitality and teaching us the Pura Vida way.